Dad Loses Son To Cancer, Starts Charity To Transport Kids To Chemo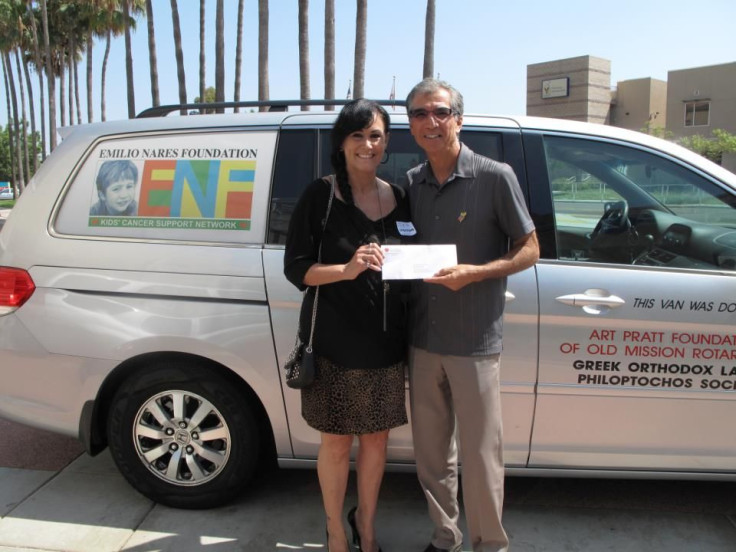 Richard Nares faced a parent's worst fear when his son Emilio was diagnosed with leukemia in 1998 and died from the disease two years later. But he managed to transform his grief into charity by helping hundreds of families face the complex challenges of childhood illness, by giving them a lift.
After his son died, he returned to Rady Children's Hospital in San Diego and asked staff how he could help others. Their answer: transportation.
Children diagnosed with cancer and their families must travel far and frequently to receive treatments, such as chemotherapy. One family that Richard encountered lived 120 miles away from the hospital. Another had to travel to the hospital six times a week but did not have a car.
For some children, the caustic chemotherapy treatments leave their immune systems so weak that they are unable to ride germ-ridden public transportation.
Many parents do not have the liberty to take unpaid time from work. Some single-parent families are forced to choose between sending their sick child on a bus to chemotherapy alone or leaving their siblings unsupervised.
He found that many children were riding the bus for over 4 hours to and from the hospital or, worse yet, forgoing important treatments altogether.
Although Richard and Emilio had rides and the support of family throughout Emilio's illness, Richard saw how tough cancer was on many low-income families and decided to do something.
"It's extremely tough, not just emotionally, but now financially," he said. "Sometimes, both parents have to either leave their job or cut back severely. Some ... don't have (an) extra $10 to pay for cafeteria food."
In the beginning, he drove around the area in his Buick, giving families rides to and from the hospital, but soon more requests came in. With the help of nurses and social workers, he started the Emilio Nares Foundation to expand his work into a formal program, named Ride With Emilio.
Now, the Emilio Nares Foundation gives 2,500 free rides to children and families a year to several hospitals in Southern California. The foundation also provides support to families providing bilingual patient advocacy, and even bereavement and burial support.
Ride With Emilio has been recognized by the U.S. Surgeons General and President Barack Obama as a model case study. Recently, Richard has been nominated to be featured in the CNN Heroes series.
Currently, Richard is running from the Golden Gate Bridge in San Francisco to Rady's Children Hospital in San Diego fundraising for his foundation.
Although he may be a hero, Richard also benefits from his work. Helping others brings him closer to his son.
"He really is the force," Nares said. "Even though he's been passed away almost 13 years, it's still like he's with me. Like he's still on my shoulder or still pulling my ear like he used to."
Visit the Emilio Nares Foundation to find out more about his work.
Published by Medicaldaily.com