Your At-Home Dental Toolkit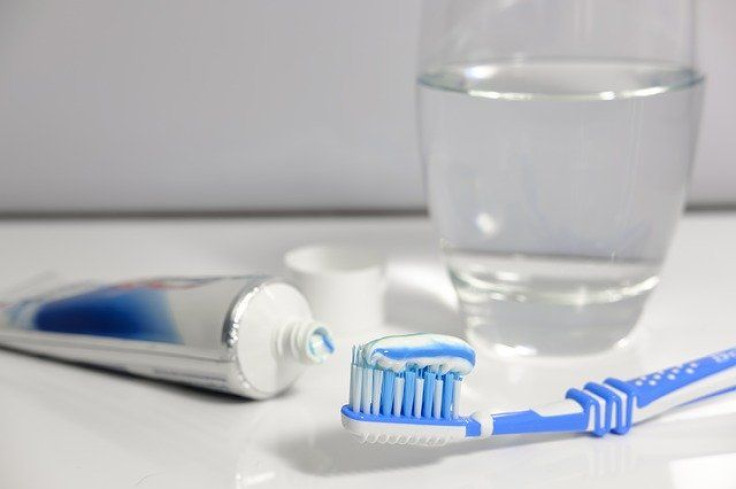 October's Dental Hygiene Month is almost over, but we're back with more tips straight from the experts who spoke to Medical Daily . This time, we'll explore tools and techniques for bolstering your dental health from the comfort of your own home -- plus a few things you'll still need the dentist for.
The Right Tool At The Right Time
Are you picking the right toothbrush to fight plaque and other dental problems? Steven Barefoot, DDS, of DentaQuest in Indiana, recommended a small, soft brush.
"Use a soft-bristled toothbrush — smaller is generally better than larger — angled at 45 degrees on the teeth, with fluoridated toothpaste," he said.
Jared Cox, DDS, of Today's Family Dentistry in Searcy, Ark., suggested investing in an electric toothbrush and a water-flosser for more effective cleaning.
"Regardless of what kind of toothbrush you have, it's important to use one. It's possible to brush your teeth effectively with a manual toothbrush. However, an electric toothbrush can be a great alternative. It's a lot easier for people to use and can be a fun option for kids," said Dr. Cox.
"There isn't really a 'better' toothbrush or flosser," said Dr. Barefoot. "What matters is that you develop a routine that includes both brushing and flossing. Be sure to follow the directions including when to change the brush heads."
Marianna Weiner, DDS, of Envy Smile Dental Spa in New York City explained some of the benefits and drawbacks of going electric. "A motorized toothbrush is a wonderful invention and a great investment, but I prefer manual toothbrushes because the user can control exactly how they are brushing their teeth. An electric toothbrush definitely cleans faster and more effectively than a regular toothbrush when measured on time alone, but the precision you get with a manual toothbrush is worth the extra time spent."
Hitting All The Right Spots
Getting the right tools is a start, but there's more to good oral health. Do you know the right technique?
Dr. Cox explained, "Now more than ever, it's important to upgrade your home dental hygiene routine, especially if you have to push back a regular checkup. It's a great time to begin using non-alcohol-containing mouth rinses for extra protection against cavities."
One spot most people miss? Their tongue. Dr. Cox advised that you "get in the habit of brushing your tongue in addition to your teeth. The tongue harbors lots of germs, and not nearly enough people know to include that in their oral hygiene routine."
Timing is also important. "Brush twice a day -- first thing in the morning and last thing at night before bed," Kian Dhinsa, BDS, of the Tooth Fairy App, recommends. "Floss at night before you brush. This clears any food or debris trapped between the teeth, allowing the toothbrush and toothpaste to get in between your teeth."
Dr. Barefoot gave a good summary of the basics. "Brush in a circular motion on every tooth surface, including cheek and tongue/roof of the mouth surfaces. Do this for two minutes. And don't forget to replace your brush when the bristles begin to spread, because a worn-out toothbrush will not properly clean your teeth."
Don't Skip The Dentist!
Going to the dentist is extremely important. Even if you invest in some extra equipment, there are some things you just can't do at home.
According to Dr. Cox, "Routine checkups are a key ingredient to lower dental care costs. An experienced family dentist can remove harmful plaque and tartar buildup, administer fluoride treatments and dental sealants to protect teeth between cleanings, and treat oral diseases at the earliest possible stage. By doing all of these things early, and frequently, your teeth will be in far better shape in the long run."
Dr. Barefoot also underscored the importance of getting an expert opinion. "Even in the pandemic, visiting your dentist is the best way to keep your mouth healthy. Some dental providers have even started to offer virtual teledentistry appointments."
The Take Home
Combining the right in-home choices with professional help is the best way to keep your teeth in shape. Keep our experts' advice in mind and improve your dental health today.
If you haven't read it yet, check out our first Dental Hygiene Month article and learn how you can eat your way to a healthier mouth.
Sean Marsala is a health writer based in Philadelphia, Pa. Passionate about technology, he can usually be found reading, browsing the internet and exploring virtual worlds.
Published by Medicaldaily.com