Doctors Successfully Remove Colossal 33-Pound Tumor that was Bigger than the Toddler Carrying It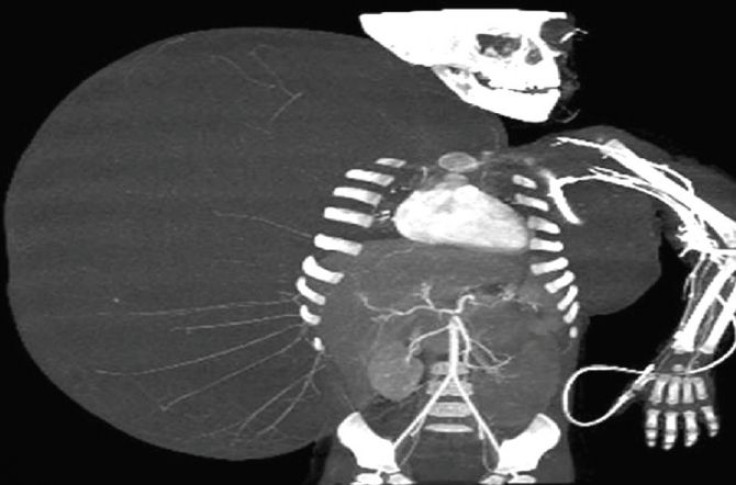 Mexican doctors have successfully removed a 33-pound benign tumor that was heavier than the toddler it was attached to.
Dr. Gustavo Hernandez, the director of pediatrics at La Raza hospital, said that the tumor weighed more than two-year-old Jesus Rodriguez, who at the time of the June 14 operation weighed 26 pounds, Associated Press reported.
Rodriguez, who was from the northern state of Durango was born with a benign lump that eventually ballooned to cover the right side of his body, stretching from his armpit to his hip.
Surgeons in Mexico City operated on Rodriguez for 10 hours to remove the tumor, and the boy is reportedly said to be recovering and doing well. Dr. Hernandez said that the operation marked the first time doctors in the country removed a tumor larger than the person carrying it.
In 2010, surgeons removed a tumor that weighted nearly 56 pounds from the womb of a 54-year-old woman from Argentina, the Daily Mail reported.
Doctors said that the massive lump was one of the largest tumors that have ever been removed from a person.
The tumor had been growing inside the Argentinian woman for 18 months and its weight had been equivalent to that of an average four-year-old or a set of quintuplets.
Before the surgery, the woman could barely walk or bend down to tie her shoes, and when the operation was done she was discharged weighing a little bit over 70 pounds, 55 percent of her original body weight when the tumor was still inside of her.
Published by Medicaldaily.com