The Ebola Outbreak Is Only The Beginning; Bill Gates Says New Technology Must Be Used To Prepare For Future Pandemic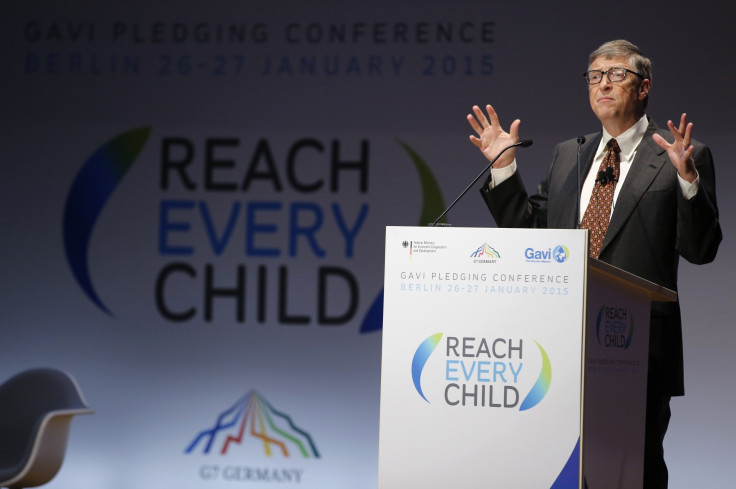 The world was caught completely unprepared for what's become the largest Ebola outbreak since the virus was discovered in 1976. Since the outbreak began last March, it's killed 8,810 of the 22,092 people who've fallen sick, mostly in West Africa. The outbreak caused widespread panic not only in the regions hardest hit but in almost every corner of the world too, from Europe to Australia to the United States. Hoping to circumvent any future outbreaks, Bill Gates said this week that we must begin using new technology to prepare for future outbreaks.
"A more difficult pathogen (than Ebola) could come along; a form of the flu, a form of SARS, or some type of virus that we haven't seen before," he told AFP. "We don't know [if] it will happen, but it's a high enough change that one of the lessons of Ebola should be to ask ourselves: Are we as ready for that as we should be? A good comparison is that we prepare ourselves for war — we have planes and training and practice."
Pointing to work his organization, the Bill and Melinda Gates Foundation, has done in the field, Gates says it's important that this preparation include building teams of volunteers that are ready to mobilize the moment there's a public health emergency. "We use satellite photos to find out where people are living, we use a GPS tracker with a cellphone so that we can see if the vaccine team is going to every place they're supposed to go, we do statistical analysis within a few days to see if there's any kids that we missed," he said.
Gates' recommendations come a day after World Bank President Jim Yong Kim warned that the world is "dangerously unprepared" for another deadly pandemic — not only have thousands of lives been lost, but the economic growth West Africa has enjoyed after years of war has basically been upturned. "We must learn the lessons from the Ebola outbreak because there is no doubt we will be faced with other pandemics in the years to come."
Studies have already shown that when it comes to new technology, social media is a reliable indicator of outbreaks. One 2012 report from the University of Rochester found that using geotagged tweets from 4.4 million Twitter users could reliably predict who would get sick with the flu up to eight days beforehand. Another study from last year used an algorithm on Twitter users to determine who was at a higher risk of HIV and other STDs. When researchers compared risk-associated tweets — regarding drugs and HIV-risk behaviors — to HIV prevalence rates, they found the two tended to come from the same areas.
New technology is everywhere. Africa's population basically skipped using computers altogether and went straight to mobile phones, making it a larger market than North America, with 400 million subscribers. Social media may be a good starting place for preparing for outbreaks, but a lot more must be done. Thankfully, Bill Gates is on it.
Published by Medicaldaily.com