Facebook Use Linked To Negative Body Image In Teen Girls: How Publicly Sharing Photos Can Lead To Eating Disorders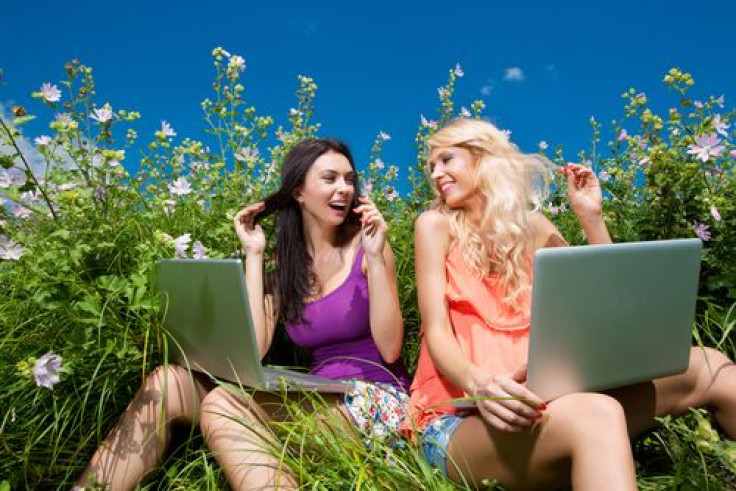 Teen girls are now beginning to wonder, "Does this picture make me look fat?" before and after they upload a photo to the popular social networking site, Facebook (FB). The growing desire to receive more "likes" than they can count on their hands and read comments about their body has driven many adolescents to the obsession of thinness. Teenage girls who heavily engage in photo-related activities on FB are more likely to experience self-objectification with their body image, according to a recent study.
The increased use of FB has not only revolutionized the way people communicate with one another but also the way individuals view themselves. The option given to many users to "untag" themselves from a photo may lead to unhealthy thoughts about the users' body because they don't believe the picture makes them look flattering. Many users have used FB as a platform to measure their appearance and feelings of self-esteem based on the response level they get from posting photos.
In a public survey commissioned by the Center for Eating Disorders, FB users between the ages of 16-40 were asked questions to evaluate if FB use has impacted their relationship with their body. More than half of the respondents polled said that seeing photos of themselves on the social networking site made them more conscious about their own body and their weight while close to half said they spent time wishing they had the same body or weight as a friend when looking at their photos online. The heavy use of photo functions on FB may negatively impact the physical and mental health of adolescents who became interactive users on the social networking site.
Publishing in the journal Cyberpsychology, Behavior, and Social Networking, a team of researchers sought to identify the specific FB features that are associated with body image disturbances in teens. One hundred and three female students between the ages of 12 and 18 were recruited from public middle and high school in New York State to complete the survey. The majority of the girls in the sample size, 85 percent, were predominately Caucasian.
The teenage girls were asked to complete a 20-30 minute survey during a free period over the course of one week. All surveys began with the demographic questionnaire followed by the Facebook Questionnaire (FBQ). Body image measures in the survey were presented to the participants in randomized order to minimize sequencing effects. The questionnaire measured total FB use, specific FB feature use, weight dissatisfaction, drive for thinness, thin ideal internalization, appearance comparison, and self-objectification. Appearance exposure score was measured based on the subjects' use of FB photo applications in relation to total FB use.
Independent sample tests were conducted to compare body image disturbance in non-FB users and FBusers. Participants that reported having no FB account (n=12) or using FB "never/almost never" (n=5) were joined to make up the "non-FB users" group (n=17). Participants that reported using FB at least one hour per week or more made up the "FB users" group (n=86).
The findings revealed there were no significant correlations found for total FB use and any of the body image measures, even when body mass index was accounted for. However, the analysis showed the significant differences between non-FB users and FB users for age, self-objectification and physical appearance comparisons. FB users scored higher across body image measures compared to the non-FB users as predicted by the researchers.
Although the general use of FB did not affect body image, adolescent girls who heavily engaged in photo functions on FB were found to engage in self-objectification, a pattern that has been found for exposure to traditional media including beauty magazines and sexually objectifying TV, wrote the researchers in their report. These teen girls were more likely to value an outsider's perspective in the form of "likes" or comments on their body image than value what they internally thought of themselves.
"Given the connection between eating disorders and body image distortion and dissatisfaction, it is important to identify contributing factors in this particularly vulnerable group," said Brenda K. Wiederhold, Ph.D., M.B.A., BCIA, Editor-in-Chief of Cyberpsychology, Behavior, and Social Networking, from the Interactive Media Institute, San Diego, in the press release. "By identifying these factors, we can move towards designing more effective prevention programs."
Photo-related use of FB may increase the chances of girls suffering from eating disorders because of the unhealthy patterns that facilitate self-objectification on the social media platform.
In a contrasting study published in the journal Sex Roles, researchers found Internet appearance exposure and magazine reading, but not television exposure, were correlated with greater internalization of thin ideals, appearance comparison, weight dissatisfaction, and drive for thinness in a group of Australian female high school students. The amount of time spent on specific social networking websites as a whole were found to strongly impact body image.
The National Institute of Mental Health says eating disorders caused by consuming extremely small amounts of food or severely overeating can cause serious disturbances to a person's everyday diet. Severe distress or concern about body weight or shape may also signal an eating disorder such as anorexia nervosa, bulimia nervosa, and binge eating disorder. Twenty million women have suffered from a clinically significant eating disorder at some point in their lives, with concerns about weight or shape expressed by girls as young as 6.
For ways to protect your teen from eating disorders, click here.
Sources:
Gray J and Meier EP. Facebook Photo Activity Associated with Body Image Disturbance in Adolescent Girls. Cyberpsychology, Behavior, and Social Networking. 2013.
Miller J and Tiggemann M. The Internet and Adolescent Girls' Weight Satisfaction and Drive for Thinness. Sex Roles. 2010.
Published by Medicaldaily.com