FDA Expands Recall Of Fruit Purees Linked To Lead Poisoning: Here Are The Products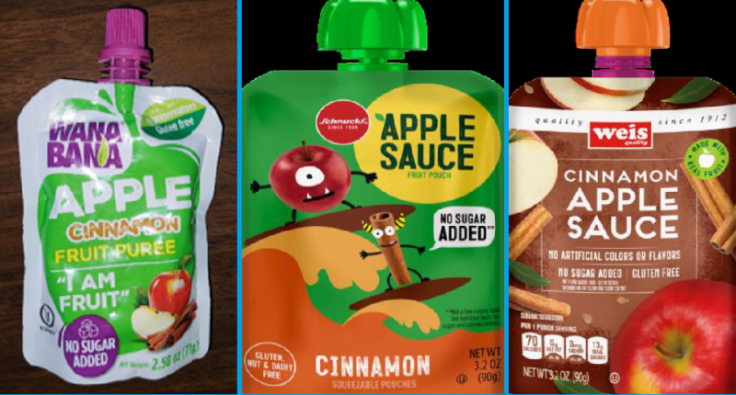 The U.S. Food and Drug Administration (FDA) has expanded its recall of fruit purees for children after an investigation confirmed at least seven cases of lead poisoning linked to the products.
Parents and caregivers are cautioned not to buy or serve brands of fruit puree pouches associated with lead contamination as it can lead to "acute toxicity" in children, the FDA said in a news release.
Lead toxicity occurs when the toxic metal builds up in the body over a period. The condition is particularly dangerous for children below six years and can affect their mental and physical development. High levels of lead can also be fatal.
Federal health officials last week recalled WanaBana apple cinnamon fruit puree pouches after an investigation revealed four cases of lead poisoning linked to the product. The agency later expanded the list to include products from two additional brands: Schnuck cinnamon-flavored applesauce pouches and certain Weis cinnamon applesauce pouches.
"In response to this investigation, WanaBana has voluntarily recalled all WanaBana Apple Cinnamon Fruit Puree Pouches regardless of the expiration date and lot code. Two additional brands of products are also subject to recall: certain Schnucks cinnamon-flavored applesauce pouches and variety packs and certain Weis cinnamon applesauce pouches," the release said.
Officials said they received more reports of illnesses. An investigation is on to identify the source of lead contamination and to know if more products are linked to illnesses.
Authorities said toddlers and young children should get tested if they have consumed the products and get medical help in case of symptoms.
What are the signs of lead toxicity?
Lead poisoning in children may lead to signs such as vomiting, abdominal pain, constipation, irritability, weight loss, loss of appetite, hearing loss, seizures, learning difficulties and developmental delays. Adults can develop headaches, muscular pains, abdominal cramps, high blood pressure, and mood disorders with elevated lead levels in the blood.
"Most children have no obvious immediate symptoms of lead exposure. If there's suspicion that a child may have been exposed to lead, parents should talk to their child's healthcare provider about getting a blood test," the FDA said.
Published by Medicaldaily.com