FDA Panel To Consider Lifting Ban On Blood Donations From Gay Men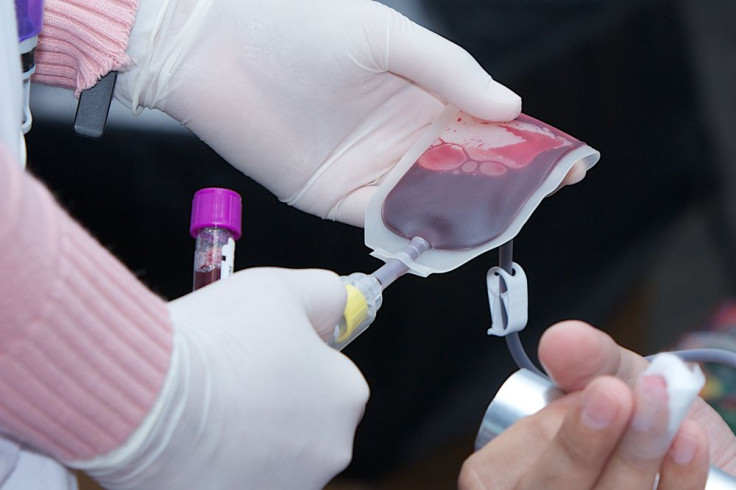 Monday, Dec. 1, is World AIDS Day, a day to raise awareness and show support to those fighting HIV, and to commemorate those who have died from AIDS. Once called "gay-related immune deficiency," the disease emerged in the U.S. in 1977, mostly among gay men (or men who have sex with men), and ravaged through communities, scaring the country at large with the swiftness in which it killed those infected. Nearly 40 years later, the world has a better understanding of the disease and its causes, and although it's no longer considered a disease only among gay men, every single one of them is banned from donating blood. That may soon change, according to the Food and Drug Administration (FDA).
The Washington Post reports that an FDA advisory panel will convene for a two-day meeting on Tuesday to discuss altering the current ban on blood donations from men who've had sex with men. All men who've had sex with other men after 1977, when the AIDS epidemic officially began, are currently barred from donating blood, a precaution the FDA takes to prevent the transmission of HIV/AIDS or other bloodborne infections, such as hepatitis B. Under potential new rules, which were proposed by an advisory group from the Department of Health and Human Services, men would have a 12-month deferral period in which they must abstain from sex with other men. Although it still seems too strict, it's a step in the right direction, and only one of the solutions the panel will speak about.
Despite only comprising two percent of the population, men who have sex with men are the most affected by HIV/AIDS, contracting 72 percent of new infections among those aged 13 to 24 in 2010, according to the Centers for Disease Control and Prevention (CDC). By the end of 2010, 56 percent of all HIV-infected persons were gay or bisexual. It's because of this that the FDA took precautions early, banning blood donations from these men due to such a high risk — nearly one in five people don't know they have it. The decision to reconsider the ban comes amid calls from gay rights activists, medical groups, and lawmakers, who have called it discriminatory and outdated.
By implementing a deferral period, the FDA may find itself in a safe position to begin taking blood donations. Many tests can take up to six months to detect antibodies to the virus, however, medical advances have allowed for even quicker testing — a rapid diagnostic test approved by the FDA last year may even be used as supplementary screening. On top of that, the FDA screens all blood donations for HIV antibodies, and the supply is generally considered to be safe, with an estimated one unit of HIV-infected blood per two million.
A recent study found that lifting the ban on blood donations from gay men would increase the blood supply by 615,300 pints per year, thus saving 1.8 million lives. Bans have already been lifted or altered in Mexico, Italy, South Africa, Australia, Japan, and Canada.
Published by Medicaldaily.com