Forty Percent Of Older Kids Count Calories At Fast Food Restaurants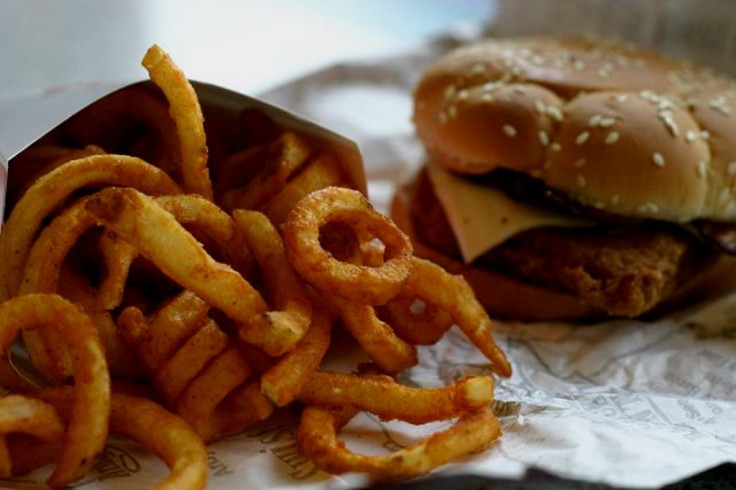 Forty percent of older children and teenagers count calories when dining on fast food fare, the three major food groups accounting for much of the nation's obesity epidemic — burgers and fries, pizza, and submarine sandwiches.
Among children ages 9-18, girls and obese kids were 70-80 percent more likely than others to use caloric information on menus than boys and others with healthier body mass indexes (BMI). A study by researchers from the National Center for Chronic Disease Prevention and Health Promotion also found that youth patronizing fast food stores and chain restaurants twice weekly or so in 2010 were more likely to consider calorie counts.
That year, more than one-third of American children were overweight or obese, the rate doubling in children and tripling in adolescents during the past 30 years, according to the U.S. Centers for Disease Control and Prevention. Aside from genetic and environmental factors, the rise of obesity among American youth reflects a greater consumption of calories versus calories expended, CDC says.
One potential contributor to rising caloric consumption may be fast food, a staple of the Western diet higher in calories, salt, and fat than meals prepared in the home. To help inform the choices of consumers, the federal government recently required chain restaurants with more than 20 locations in the United States to list calorie information adjacent to items on the menu, and to also display prominently suggested daily calorie intake information. With the law soon to take effect, some local jurisdictions already require calorie counts, with restaurant chains such as McDonald's already doing so.
Dr. Holly Wethington and colleagues at the CDC's division of nutrition, physical activity, and obesity, followed 721 American children aged 9 to 18 through mail surveys in 2010, inquiring about availability and use of calorie information for meals at fast food stores and chain restaurants.
"Our findings are important given the high prevalence of obesity among youth and the adverse health effects associated with obesity," Wethington said. "It is encouraging that a large number of youth, particularly youth who are obese, reported using the calorie information."
The study group had a slightly higher proportion of boys than girls, at 56.4 percent, in addition to a higher proportion of respondents, nearly one-third, in the 12 to 14 age range. Nearly two thirds of them reported healthy weights, as assessed by BMI, while 13.3 percent were obese. Of those who patronized fast food stores and chain restaurants, nearly two-thirds went on a weekly basis or so, with just over a third going twice or more per week.
When calorie information was available on the menu, 42.4 percent of young Americans surveyed said they used it, compared with 57.6 percent who didn't bother. The researchers excluded from their figures children who said they never consumed such fare, 8 percent, as well as 20 percent of survey respondents who said they never noticed the calorie information.
Perhaps predictably, girls and children with obesity were overwhelmingly more likely to consult such information, at 80 percent and 70 percent, respectively. However, children and teenagers who frequented such stores and restaurants twice or more per week were half as likely to use the information.
"This may have potential to lead to improved food and beverage choices as a way to manage weight, although more research is needed to assess whether youth know how many calories they should consume in a day given their activity level," Wethington said. "Public health practitioners, school nutrition services, retailers, and other interested groups can consider implementing complementary education programs to improve youth's understanding of calorie information to hopefully make calorie labeling part of a successful weight management strategy."
New York City's requirement to post calorific information on menus has been successful, researchers say, with 57 percent of youth noticing the labels and 9 percent considering the information when ordering, with a number of previous studies evaluating the effects. A federal law passed in 2010 would soon require 200,000 fast food stores and restaurant chains across the country to list such information on menus, with the U.S. Food and Drug Administration charged with standardizing the calorie count.
Lindsey Davies, president of the UK Faculty of Public Health in the United Kingdom, told media the new study published Thursday in the Journal of Public Health supports regulation as a way to mitigate the public health effects of obesity and poor diet. "This welcome research adds to our understanding of young people and their food choices [and] it's good news that some young people want to understand more about the food they're eating and are using calorie information when they eat in fast food restaurants," she said. "But to tackle obesity effectively, we need to know more about why so many young people do eat fast food so often."
Davies also called for governments to ban trans fats in fast food, which increase the risk of heart disease at no redeeming nutritional value.
Sourece: Wethington, H, Maynard, L, Heidi B. 'Use of calorie information at fast food and chain restaurants among US youth aged 9-18 years, 2010.' Journal of Public Health. DOI: 10.1093/pubmed/fdt049.
Published by Medicaldaily.com