Fourth Ebola Patient Arrives In US For Care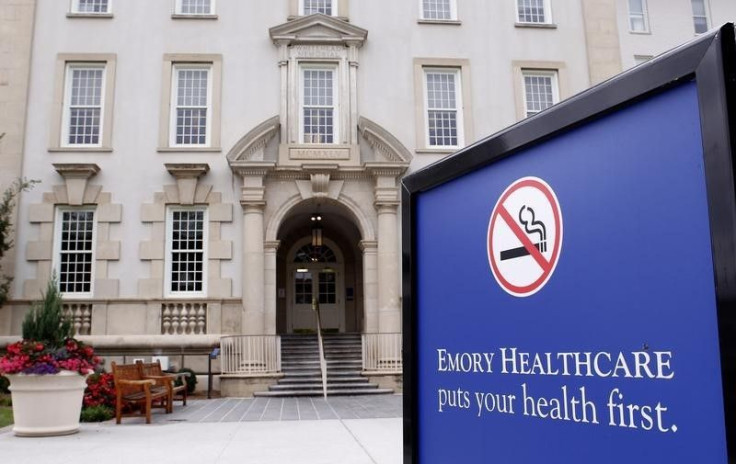 (Reuters) - A fourth Ebola patient arrived in the United States from West Africa on Tuesday, headed to the same Atlanta hospital where two other people were successfully treated for the disease.
An air ambulance carrying the new patient landed Tuesday morning at Dobbins Air Reserve Base, Atlanta television station WSB-TV footage showed. Emory University Hospital confirmed it would be treating the patient, who was not identified.
The hospital said in an earlier statement that the patient would be treated in the same isolation unit for serious infectious diseases where U.S. missionaries Nancy Writebol and Dr. Kent Brantly also received care for the lethal virus.
Another American missionary, Dr. Rick Sacra, was also transported to the United States from West Africa after becoming infected with Ebola in Liberia. He is being treated at the Nebraska Medical Center in Omaha.
Medical workers have been hit hard by the epidemic, the worst since Ebola was discovered in 1976. As of late August, more than 240 healthcare workers had developed the disease and more than 120 had died, the WHO said.
The outbreak has killed some 2,100 people overall in Guinea, Sierra Leone, Liberia and Nigeria, and has also spread to Senegal.
The World Health Organization said on Monday that one of its doctors stationed in an Ebola treatment center in Sierra Leone had tested positive for the disease. That doctor was being evacuated from Freetown, the WHO has said, without disclosing the person's identity or where he or she was headed.
It was not immediately clear if the patient arriving in Atlanta on Tuesday was the WHO's physician or if the patient was an American. The health organization has released no additional information on their doctor, and representatives for the U.S. State Department could not be immediately reached for comment.
(Reporting by Colleen Jenkins; Editing by Susan Heavey)
Published by Medicaldaily.com