At G8 Dementia Summit, Experts Warn Of Exploding Numbers, Bankrupt Healthcare Systems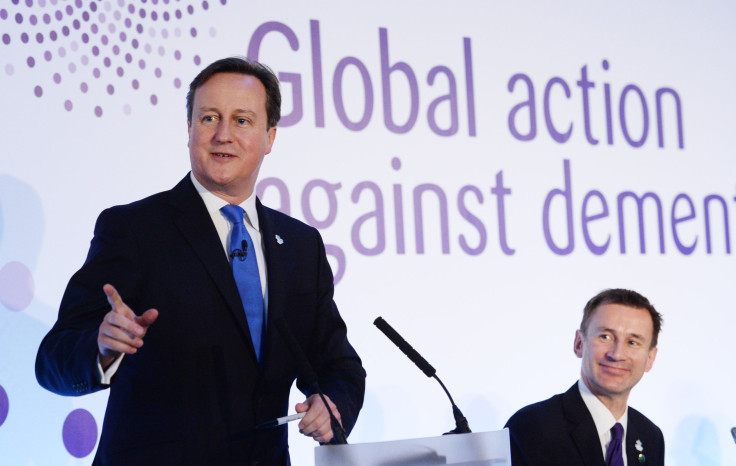 Exploiting the UK's 2013 presidency of the Group of Eight (G8), Prime Minister David Cameron and Health Secretary Jeremy Hunt dedicated the G8 summit to seeking global coordination in the battle against dementia. Worldwide, 35.6 million people are estimated to be living with dementia. However, an aging global population suggests this number could almost double every 20 years to 65.7 million in 2030, and 115.4 million in 2050, according to World Health Organization (WHO) estimates.
"No one here is in any doubt about the scale of the dementia crisis," Cameron said in his address."This disease steals lives, it wrecks families, it breaks hearts, and that is why all of us here are so utterly determined to beat it."
Meeting Wednesday in London, health ministers from the G8 industrialized countries addressed the present and future impact of this escalating health problem, which currently costs an estimated $600 billion each year — about 70 percent of which is incurred in Western Europe and North America. The summit highlighted the fact that these increasing numbers will be affecting populations in developing countries, home to 58 percent of those currently suffering with dementia. By 2050, WHO estimates this will rise to 71 percent. The fastest growth in the elderly population is taking place in India, while in China, the international health community generally assumes rates are rising more quickly than indicated by the government.
In the UK, public health officials believe nearly a million people will be diagnosed with the condition by the end of 2020, though currently it is affecting 670,000. The Prime Minister's Challenge on Dementia, a national action plan, was launched in 2011. According to the Alzheimer's Society, two-thirds of all people with dementia, which usually occurs in people who are 65 or over and is slightly more common in women, are cared for in the community.
The summit aims to identify and then agree on an international approach to dementia research, while helping to secure a new level of cooperation among companies, researchers, and clinicians, in order to reach shared goals faster than when acting in isolation.
In particular, Hunt suggested the AIDS crisis might inform the current battle, when British Prime Minister Tony Blair used the 2005 G8 summit, sponsored by the UK, to petition for better and more widely available drugs. At that time, the total number of people living with the human immunodeficiency virus (HIV) had reached an estimated 40.3 million [36.7–45.3 million] and close to 5 million people had been newly infected with the virus in that year. "We have turned the global tide in the battle against AIDS," Hunt told the assembly. "Now we need to do it again. We will bankrupt our health care systems if we don't."
Published by Medicaldaily.com