Good Friday Healthy Recipes: 5 Meatless Meals For Busy Families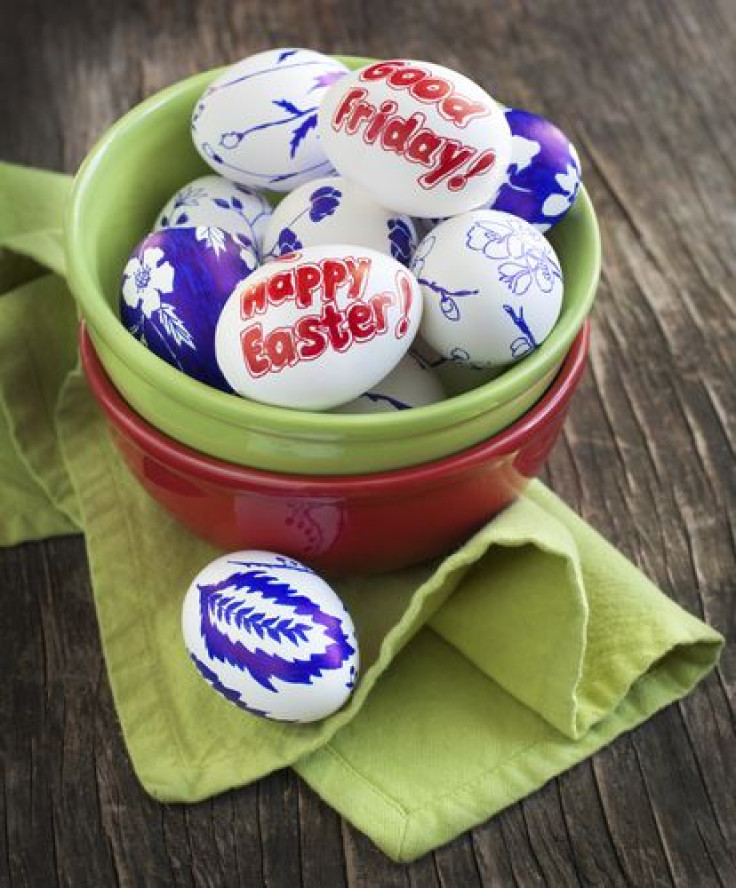 Good Friday is a day of fasting and penance for many Christians who commemorate the crucifixion of Jesus Christ through offerings, such as foregoing meat. This dietary restriction has been associated with spirituality since the seventh century and is still practiced today during Lent when Christians refrain from meat consumption on the holy days during Lent. However, just because you're not having meat this Good Friday, doesn't mean you have to miss out on flavorful food dishes. Enjoy a healthy, meatless meal — that will even have a meat-lover salivating — with our round-up of the six most quick-and-easy meatless meals for busy families.
1. Creamed Asparagus and Hard-Cooked Eggs — 30 Minutes
Eggs are considered the fallback Lenten food for Catholic families who stumble on what to prepare for Lent. They are quick, easy, and economical, packed with 6 grams of protein.
Yield:
4 servings Creamed Asparagus/Egg
Ingredients:
1 lb. asparagus, cleaned and trimmed
4 hard-cooked room-temperature eggs, peeled and sliced
Cream Sauce:
3 tablespoons butter
3 tablespoons all-purpose flour
1 1/2 cups milk
4 slices toasted whole grain bread (optional)
Preparation:
Cook asparagus spears in salted water until tender but not mushy. Drain and keep warm.
Meanwhile, make the cream sauce by melting butter in a small saucepan or skillet. Add flour, stirring and cooking for about 1 minute. Add milk and whisk until smooth. Cook, stirring constantly, until mixture thickens and comes just under the boil.
To serve, if using toasted bread, place 1 slice on each of 4 plates. Arrange 1/4 of the asparagus spears on top, followed by 1 sliced hard-cooked egg. Then ladle sauce across the top. Pass the rest of the sauce at table.
Recipe courtesy of All Recipes.
2. Roast Salmon with Broccoli Rabe and Quinoa — 35 Minutes
This protein and fiber-loaded dish is considered to be a "nutritional-powerhouse" meal that will fill you up. Quinoa contains almost twice as much fiber as most other grains, which helps prevent heart disease by reducing high blood pressure and diabetes. The heart-healthy dish will keep you and your family energized throughout the fasting holiday.
Yield:
Makes 2 servings
Ingredients:
2 2-ounce portions of wild salmon
1/2 teaspoon sea salt
1 bunch broccoli rabe, washed, stalks trimmed and split lengthwise
2 cloves garlic, sliced lengthwise
2 tablespoons extra virgin olive oil
1 cup cooked quinoa
Preparation:
1. Heat oven to 400 degrees.
2. Heat a skillet and add 1 tablespoon olive oil. When oil is hot, add salmon, seasoned with sea salt, and sear on one side for 3 minutes. Flip over, sear other side for 1 more minute, then remove from pan.
3. Place on baking tray and place in oven for 7 to 8 minutes.
4. Drain excess oil from skillet, heat skillet again. Add remaining olive oil and sauté garlic for 1 minute.
5. Turn heat down to medium. Place broccoli rabe in pan, add 1/4 cup water, cover, and steam for 2 minutes. 6. Serve greens with salmon on top. Serve quinoa as a side dish.
Recipe courtesy of Shape.
3. Southwestern Stuffed Bell Peppers — 40 Minutes
Stuffed peppers are a simple all-in-one meal that includes servings of protein, vegetable, and starch all in one. The colorful all-vegetarian meal are a healthy, hearty, and easy way to create a meatless meal on Good Friday or any other day in the year. The stuffed peppers are topped with slices of sharp cheddar cheese, creating a balance between the creamy and spiciness of the dish.
Yield:
Makes 4 servings (1 pepper half per serving)
Ingredients:
2 bell peppers, any color
3/4 cup instant brown rice
1 cup chunky-style mild salsa
1/2 cup canned black beans, rinsed and drained (optional)
1/2 cup frozen corn 1/2 teaspoon chili powder
1/4 teaspoon cumin
1/4 teaspoon salt
1/4 teaspoon pepper 4 slices sharp cheddar cheese
1 tablespoons chopped fresh cilantro
Preparation:
Cut peppers in half; remove seeds.
Place in a shallow baking dish, cut-side down.
Bake in preheated 425-degree oven 15 minutes or until skins begin to bubble and peppers are just tender.
Boil 3/4 cups water in a medium-sized saucepan.
Stir in rice; return to boil. Reduce heat to low; cover and simmer 5 minutes.
Stir in salsa, beans and corn, and mix lightly. Add chili powder, cumin, salt and pepper.
Fill baked peppers with rice mixture; cover with foil.
Bake in preheated 400-degree oven for 15 minutes. Uncover and top with cheese slices.
Continue baking 5 minutes or until cheese is melted and filling is hot.
Sprinkle with chopped cilantro.
Recipe courtesy of The Comfort of Cooking.
4. Good Friday Veggie Burgers — 45 Minutes
Veggie burgers on Good Friday are an excellent substitute for meat and create the illusion that you're eating a hamburger. The caramelized onion-veggie burger delivers 14 grams of protein plus essential minerals, with one cup of lentils containing 35 percent of our daily iron intake. This meal is a way to provide the family, especially the kids, meat-like meals in the home while also staying fit and healthy.
Yield:
Makes 8 burgers (serving size: 1 burger)
Ingredients:
1 large garlic clove, chopped
1/2 pound cremini mushrooms, stems removed
1 tablespoon fresh thyme leaves
2 tablespoons olive oil, divided
1 large onion, chopped (about 3 cups)
1 cup canned lentils, rinsed and drained
3/4 cup whole-wheat breadcrumbs 1 large egg, whisked
1 teaspoon salt
1/2 cup yellow cornmeal
2 ounces goat cheese, crumbled (about 1/4 cup)
6 whole-grain buns
8 tomato slices (optional)
Fresh basil leaves (optional)
Preparation:
1. Pulse first 3 ingredients in food processor until finely chopped.
2. Heat 1 tablespoon oil over medium-high heat in a skillet; turn down to medium, and cook onion, stirring occasionally, about 15 minutes or until golden brown. Add mushroom mixture, and cook, stirring, about 2-3 minutes or until liquid evaporates. Remove from heat, and let cool.
3. Stir cooled mushroom mixture into lentils, and combine with next 3 ingredients (through salt) until well-combined. Form mixture into 6 patties (about 1/2 cup each). Put cornmeal on a shallow plate, and coat burgers evenly.
4. Heat remaining 1 tablespoon oil in a nonstick skillet over medium heat, and cook burgers about 3 minutes or until golden brown on underside. Flip burgers, and top with cheese. Cook about 3 minutes more or until golden brown and cheese is melted. Serve burgers on buns topped with tomato and basil, if desired.
Recipe courtesy of Yummly.
5. Baja Fish Taco — 50 Minutes
These fish tacos will give a kick of flavor even to the pickiest of eaters, and those who do not even like fish. Fish is a rich source of protein and contains heart healthy omega-3 fatty acids that will keep you and your family healthy during this fast.
Yield:
Makes 4 servings
Ingredients:
2 cups shredded red cabbage
1/4 cup coarsely chopped cilantro
1/4 cup plus 3 tablespoons red salsa
Salt
1/3 cup sour cream
2 cups cornmeal
3 large eggs
1 pound cod, cut crosswise into 1/2-inch-thick slices
Vegetable oil, for frying
8 6 inches soft corn tortillas
Preparation:
In a medium bowl, toss the cabbage, cilantro, 1/4 cup salsa and salt to taste. In a small bowl, stir together the sour cream and remaining 3 tablespoons salsa. Set both aside.
In a shallow dish, whisk together the cornmeal and 1 tablespoon salt. In another shallow dish, beat the eggs with a fork. Coat the fish slices in the cornmeal, then in the egg, then in the cornmeal again, and place on a plate.
In a medium cast-iron or other heavy skillet, pour the oil to a depth of 1-1/2 inches and heat over medium heat until the surface ripples, about 2 minutes. Add about a third of the fish slices to the skillet and cook, turning once, until golden, 3-4 minutes. Transfer with a slotted spoon to a paper-towel-lined plate. Repeat with the remaining fish slices.
In a large skillet, warm the tortillas on both sides over high heat. Spread about 1 teaspoon sour cream sauce on a tortilla, then top with a few pieces fish and a heaping spoonful of the slaw and fold over. Repeat with the remaining tacos.
Recipe courtesy of Rachael Ray Magazine.
Published by Medicaldaily.com