Health Benefits Of Onions: Compound In Red Onion May Help Kill Cancer Cells, Fight Inflammation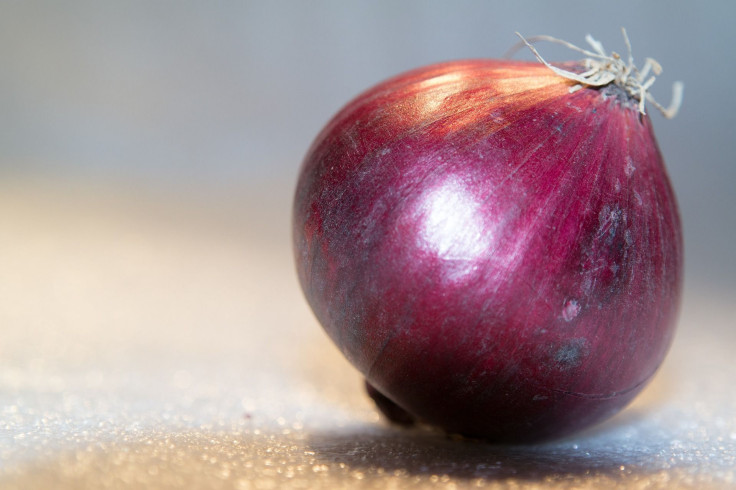 Next time you're out for lunch, you may want to think twice before asking the waiter to "hold the onions" on your garden salad. New research from the University of Guelph in Canada has found that red onions have impressive cancer-fighting abilities. The study found that the Ontario onion in particular has high concentrations of quercetin, a compound previously noted for its ability to kill certain cancer cells.
The study, published online in Food Research International, found that the Ontario-grown Ruby Ring onion has the highest quercetin levels of all onions. In addition, the red onion has high amounts of anthocyanins, another compound that enhances the cancer-fighting properties of quercetin.
Read: Health Benefits Of Onions: 5 Surprising Ways Onions Can Cleanse Your Body To Eliminate Disease
"We found onions are excellent at killing cancer cells," said lead study author Abdulmonem Murayyan in a recent statement. "Onions activate pathways that encourage cancer cells to undergo cell death. They promote an unfavorable environment for cancer cells and they disrupt communication between cancer cells, which inhibits growth."
For their research, the team looked at five different Ontario-grown onions, measuring the amounts of quercetin in them. According to Memorial Sloan Kettering Cancer Center, quercetin has been shown to neutralize free radical in the body that can cause cell and DNA damage, the catalyst to cancer. In addition, the site reports that quercetin has anti-inflammatory properties by inhibiting the release of substances that mediate the inflammatory response, such as histamine.
The team placed colon cancer cells in direct contact with quercetin extracted from five different Ontario onion varieties in order to determine the compound's effect on cancerous cells. The compound had strong cancer-fighting abilities, and according to the team, the next step is to test the vegetable compound in human trials.
The team is also working to create a new extraction technique that would allow them to take quercetin from vegetables without using chemicals.
"Developing a chemical-free extraction method is important because it means we can use onion's cancer-fighting properties in nutraceuticals and in pill form," explained study co-author Suresh Neethirajan in a statement.
The health benefits of onions don't stop at fighting cancer. The vegetable is also helpful in preventing heart disease. For example, a 2007 study published in The Journal of Nutrition found that quercetin also significantly reduced high blood pressure and hypertension in adults. And because of quercetin's antihistamine and anti-inflammatory effect, researchers believe that it may be effective in managing asthma symptoms.
Other compounds in onions have also been shown to have health benefits. For example, allyl propyl disulphide, an oil found in onions of all kinds, can lower blood sugar levels by increasing the amount of free insulin available in the body. As a result, research suggests that adding more onions to your diet can help improve the health of individuals with diabetes.
Source: Murayyan AI, Manohar CM, Hayward G, Neethirajan S. Antiproliferative activity of Ontario grown onions against colorectal adenocarcinoma cells. Food Research International. 2017
See Also:
Compound In Several Cruciferous Vegetables Kills Cancer Stem Cells: Study
Fight Cancer With These 8 Foods: A Science-Backed Food Guide
Published by Medicaldaily.com