The Health Benefits Of Probiotics Get A Boost With Dairy Products; Supplementing With Milk Improves Colitis, Lactose Intolerance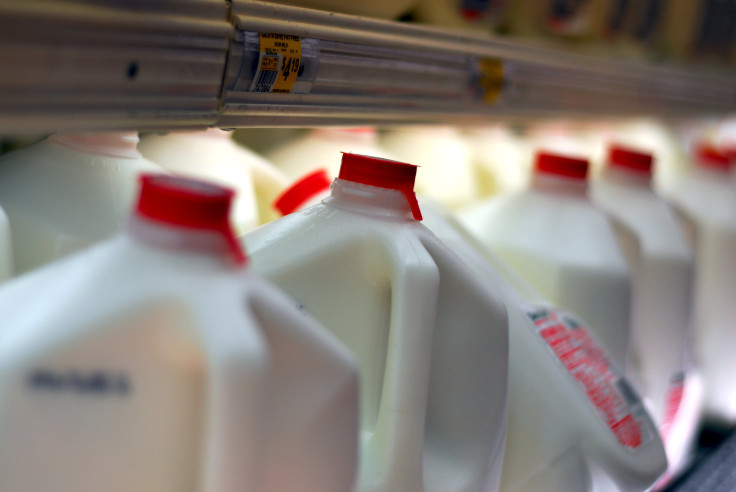 Daily dosages of probiotics may provide a boosting effect with the help of a glass of milk or cup of yogurt, according to new findings. Researchers from the department of Food Science and Technology at the University of California, Davis, studied how to improve probiotics' power to treat a host of digestive issues, including lactose intolerance and inflammatory bowel disease (IBD).
Probiotics are alive — flourishing bacteria and yeast living in certain kinds of fermented foods we eat. They've been known to offer a variety of health benefits, particularly for the digestive system, but little has been known about how probiotic-containing products combined with probiotic supplements influenced their effectiveness — until now. In the second stage of studying preclinical benefits, published in the journal Applied and Environmental Microbiology, researchers compared how Lactobaccillus casei, one of the most common probiotics found in yogurt and other dairy products, prevented digestive issues.
"Our findings indicate that the manner in which a probiotic is delivered — whether in food or supplement form — could influence how effective that probiotic is in delivering the desired health benefits," the study's coauthor Maria Marco, a professor at the University of California, said in a press release. "This did not significantly alter the populations or diversity of the resident gut bacteria, suggesting that the benefits of the probiotic involve a direct effect of L. casei, or of a metabolic product of these bacteria upon the intestinal epithelium, rather than a global alteration of the indigenous intestinal microbiota."
Researchers first tested whether or not low temperatures had any positive influences on how probiotics survived in the intestines of mice. Probiotics performed better in the digestive tract when they were consumed at colder temperatures. In the next stage of the study, researchers tested how effective L. casei was when consumed with milk and without. When taken with a dairy product, the probiotic was more effective at prevention symptoms of IBD in mice. Marco and her team think the benefits may stem from how effective dairy carbohydrates are in treating acidic conditions within the stomach.
IBD affects more than 1.6 million Americans by causing blockage of the intestines due to swelling and scar tissue, according to the Centers for Disease Control and Prevention. It causes loss of appetite, persistent diarrhea, abdominal pain, fever, and rectal bleeding. Probiotics have served as friendly bacteria to help curb the symptoms. Two out of five patients with IBD use probiotics, and if taking a supplement with a dairy product can improve the efficacy of dose, it could mean a deal of a difference for IBD patients suffering on a daily basis.
"Strains of L. casei are commonly added to dairy products as probiotics and, while strain BL23 is not commercially available, it is genetically similar to commercial strains and has also been studied for its capacity to prevent or reduce intestinal inflammation," Marco said. "Because we know that bacteria can adapt to their surroundings, we thought the conditions that probiotics are exposed to prior to ingestion might influence their capacity to maintain or improve human health."
Source: Marco ML, Lee B, Yin X, and Griffey SM. Dairy improves L. casei protection from colitis. Applied and Environmental Microbiology. 2015.
Published by Medicaldaily.com