Healthy Sex Apps: 8 Apps For A Better (And Safer) Sex Life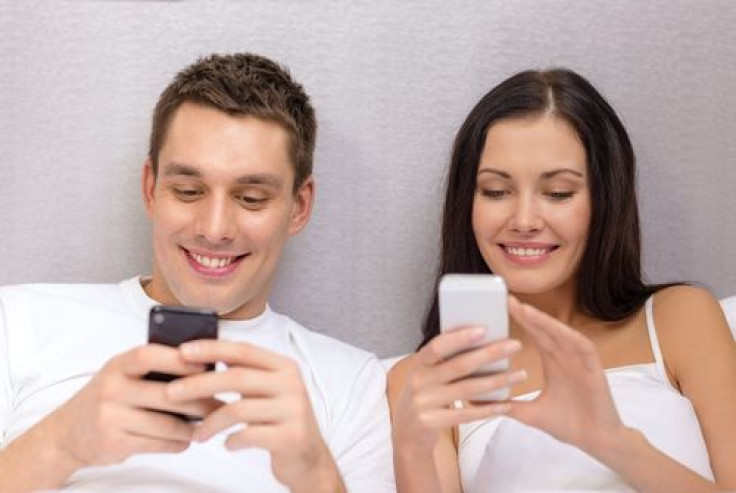 Bedroom insecurities tend to arise before, during, and after sex, leaving even the Don Juans of the world in doubt of their sexual performance. While approaching sex-related topics, such as frequency or quality, can be uncomfortable for partners, the creation of smartphone apps has helped revolutionize sex conversations in a fun, laid back, and hands on, interactive way. Whether you're in a brand-new relationship or with the same partner, these eight healthy sex apps are designed to provide a better and safer sex life with just the push of a button.
8 Healthy Sex Apps for a Better (and Safer) Sex Life
1. iCondom
Wearing a condom could save your life. Using condoms helps reduce the spread of sexually transmitted diseases and prevents an unwanted pregnancy. The iCondom iPhone app helps facilitate all your safe sex needs — even if you and your partner get caught up in the heat of the moment. The user-generated map is able to locate the closest store or vendor within your radius to keep your condom run short and brief.
Price: Free
2. MedXCom
The MedXCom patient app allows users to store and manage all of their health information. You have full control of what you decide to store, what to share, and most importantly, who gets to see this information. Users can even use MedXSafe Bump to find out whether their partner has a sexually transmitted disease (STD). Partners simply "safe bump" their mobile devices together to exchange information on their STD status. All STDs are preventable by either abstinence or consistently using a condom to dramatically reduce the risk of contracting these diseases.
Price: Free
Bonus: Hula, a new free iPhone app, enables users to find local STD testing centers and have their results sent directly to their phones. Singles can share the findings with others on their social networks and ask if their partner has gotten tested, too.
Price: Free
3. Spreadsheets
Bedroom partners who want to keep track of their sexual performance and frequency can now do so by downloading the Spreadsheets app. Users can find out how many thrusts per minute they're averaging, how long they go for, and even just how loud it gets in the bedroom. The app allows users to earn 30 achievements based on how they rank in several of the sex categories as a means to improve their sex lives. Both partners can share the afterglow experience in a laid back way that encourages open dialogue and feedback.
Price: $1.99
Limited Time Offer: Enjoy a 50% discount during February.
4. iKamasutra
For partners who are adventurous and want to spice up their sex life, the sensual iKamasutra app can cater to those with the wildest imagination. The app contains over one hundred sexual positions in nine categories that are drawn and explained to motivate and inspire you and your partner. For those who like a challenge in the bedroom, users can track their progress from Novice to Kama Sutra Grand Master. Partners can even email positions to each other right from their iPhone to increase the anticipation and prevent an anti-climactic ending.
Price: $1.99
Limited Time Offer: Now on 70% SALE until this weekend only.
5. Fifty Shades of Grey Sex Game
The Fifty Shades of Sex dice game allows you and your partner to channel your inner Anastasia Steele and Christian Grey by letting the dice judge your submissive fate. Not your favorite erotic novel? The app is fully customizable and allows for any erotic novel fantasy to be played out. The fantasy sex game is available for Android.
Price: $1.49
6. HappyPlayTime
Women, for those nights where you're alone but still want to feel a similar sensation of sex, the HappyPlayTime app allows women to take their solo-sex experience to new heights. The app will not only provide lessons on self-stimulation techniques through creative games, but it will also teach female anatomy. The "female masturbation app" encourages women to become comfortable with their own sexual pleasure. The company is currently seeking sponsors via a crowd-funding campaign and has yet to be released. It can be your dirty little secret.
Price: N/A
7. Sexy Vibes
Your smartphone can do more than just make phones, text, and write emails, it can also be transformed into a vibrator for women. The Sexy Vibes Google Play app features music, customizable vibration, and even a remote control feature. Users can connect to someone they know, or randomly meet through the app's matching service to send and receive vibrations from other users anonymously. A plus for users is the app allows you to activate OhMiBod™ Mode to use Sexy Vibes as a controller for any OhMiBod™ brand vibrator.
Price: Free
8. Glow Fertility App
The Glow app can increase a couple's chance of pregnancy by notifying the woman of their most fertile days. It will collect data on successful and unsuccessful attempts at conception by showing a calendar that lets the user know when she'll be menstruating, ovulating, or in between her cycle. The app even gives women help tips such as "Buy ovulation test kit" and "Stay out of the hot tub! Heat kills sperm." Women who do not conceive within a 10-month period of using Glow will get money from the contribution pool of cash to go directly toward infertility treatments or procedures.
Price: $50/month for 10 months
These eight smartphone apps are designed give you a better and safer sex life.
Published by Medicaldaily.com