How To Be More Productive: 15 Lesser-Known Ways To Boost Your Productivity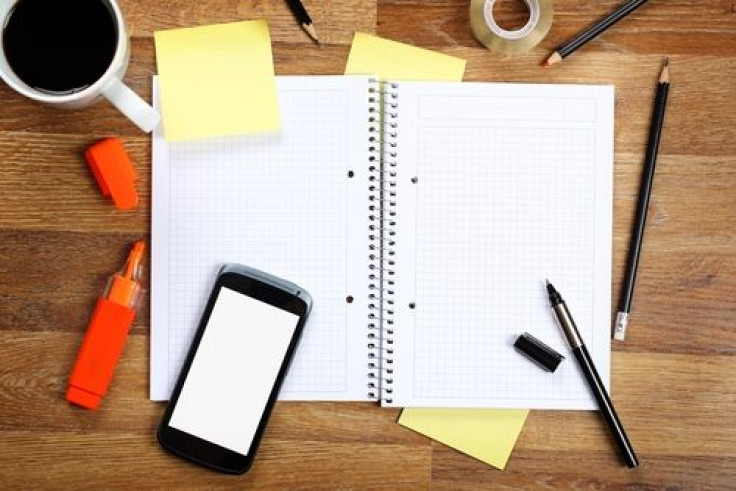 Smartphones, eating at your desk, cute cat videos, plants, and even more cat videos can make a person more productive. Science knows it. Your boss with a view of your computer screen knows it. But did you know these aren't the only out-of-the-box ways to completely crush your workload?
It's true. We talked to several experts for their best-kept ways a person can boost their productivity. No thanks necessary.
Rise And Shine
Literally. Not only does an early alarm ensure the freshest cup of coffee, but Laura Vanderkam, author of What The Most Successful Eat Before Breakfast, told Entrepeneur it deters distraction. "There are going to be reasons why you can't tackle a personal priority at 4 p.m. — things have a lot less likelihood of coming up at 6 a.m.," she said.
Get Your Vitamins
"Treating vitamin deficiencies [can help] with energy and focus," Dr. Arielle Miller Levitan, a physician at Ravinia Associates at North Shore Medical Group in Chicago, told Medical Daily in an email. "The common ones we see that affect this are iron, vitamin D and B. People find that once they fix this problem, they are much more productive in their daily lives."
Red meat, fish, eggs, beans, fortified cereals, and fortified dairy (soy milk and tofu) are foods that combine all three of the aforementioned vitamins. A trip to the supplement aisle may be necessary for anyone with food sensitivity and/or allergies.
Don't Beat The Blue (Light)
Blue light is one of the many that fall on the vision spectrum. Its color is determined by its frequency (606 THz) and wavelength (450 nm). It's also the kind of light that emits from smartphones.
"Having a blue light in overhead desk lighting, as well as computer monitors and screens, can increase wakefulness and alertness," Dr. Andrea Paul told Medical Daily in an email. "It can therefore increase productivity by reducing workplace fatigue."
Make A Negative Affirmation
Sounds counterintuitive, but a negative affirmation, like "I don't feel like doing this right now," can decrease the risk for self-sabotage.
"Negative affirmations remove the inner struggle against the current truth," Dr. Tina Gilbertson, author of Constructive Wallowing: How to Beat Bad Feelings By Letting Yourself Have Them, told Medical Daily in an email. "We can't control how we feel, but we can control how we behave. So we can feel like not being productive, and yet decide to work anyway."
Turn Down For What?
Definitely not music with 140 to 160 beats per minute (BPM). "This works well when something needs moderate thought processing but not for things that require deep concentration," Dr. Dave Popple, president of the Psynet Group in New York, told Medical Daily in an email.
Dr. Popple recommends using jog.fm to identify a song's BPM to create a rhythm-to-data input. For example, "Turn Down For What" by Lil' Jon falls short at 96 bpm. But a better song would be "All Of The Lights" by Kanye West, which clocks in at 142 BPM. You know, if that's literally your jam.
Write A Thank You Note
Late Night TV show host Jimmy Fallon has taken to writing thank you cards at the end of each week. Turns out other bosses and managers would be wise to do the same.
"A hand written note or card that suggests your admiration to the employee will go a long way to creating passion in the workplace," Dr. Drew Stevens, a practice management expert and health care coach, told Medical Daily in an email. "When individuals know that they are appreciated even for some of the personal effort, they will pour forth more motivation to your practice."
Stay (Lemon) Fresh To Death
Add a lemon scented air freshener to the to-do list! "Lemon helps increase concentration and boosts your energy," Paula Rizzo, senior health producer for Fox News and author of Listful Thinking: Using Lists to Be More Productive, Successful, and Less Stressed, told Medical Daily in an email. "It can also reduce stress and improve moods without lowering energy and alertness."
Wax On, Wax Off
...hardwood floors. Rizzo said these types of surfaces provide a warm feeling when balanced with a soft, wool rug. The contrasting textures make the office space inviting, which is known to boost productivity. Bonus: a brightly colored rug can help keep your mind awake.
Granted, this is harder to accomplish when your office is carpeted, or you're still residing in cube city. In which case, check with all proper personnel before looking into a renovation.
Time Block Your Schedule
It's exactly how it sounds: blocking off time in your schedule for personal tasks in the same way you would a meeting or business lunch.
"By putting these commitments right into your appointment book or daily planner for a specific time and date, you are concretizing these commitments and therefore making it more likely to happen," Dr. Jan Yager, author of Put More Time on Your Side and Work Less, Do More, told Medical Daily in an email. "The key, of course, is to train yourself to keep these commitments to yourself to get things done that you never seem to get around to doing."
Oil Up
Medium Chain Triglycerides (MCTs) are a dietary fat, which boosts energy. They're naturally found in coconut and palm kernel oil, Dr. Jeremy Harris, of the Mayo Clinic in Jacksonville, Fla., told Medical Daily in an email. "MCT Oil is manufactured to be efficiently digested and absorbed by the body and provides both the body and the brain with nearly instant and sustained energy. I've noticed my own productivity increase 10x fold after taking it in the morning," he said.
Since it doesn't have any taste or flavor, Harris recommends mixing 1 tbsp of MCT oil with morning coffee, green tea, or protein shake to feel great well into the afternoon.
Try Acupressure Therapy
According to Harris, this ancient healing practice targets pressure points to stimulate the body, release tension, and reduce muscle pain. Previous reserach also finds acupressure can reduce hot flashes.
Harris recommends the Orbi to all his patients. It's the perfect size and density to boost productivity at work without distracting any of your co-workers.
Ditch Your Desk
Sitting is the new smoking, you might have heard or seen written a hundred times. Despite the tired headline, it's valid. Prolonged sitting has been linked to everything from obesity to certain cancers.
Enter: standing desks. Ergonomics-related research shows up to an 18 percent increase in productivity when people stand more, with some studies citing 71 percent of people felt more focused and 66 percent felt more productive when using sit-stand workstations in the office.
If you're really up for a challenge, as switching to a standing desk takes some getting used to, treadmill desks boost very similar benefits.
Go Green
A study from the University of California, Los Angeles found a company's green practices and standards increase an employee's productivity by 16 percent.
"Adopting green practices isn't just good for the environment," lead study author Magali Delmas, an environmental economist at UCLA's Institute of the Environment and Sustainability and the UCLA Anderson School of Management, said in a press release. "It's good for your employees and it's good for your bottom line. Employees in such green firms are more motivated, receive more training, and benefit from better interpersonal relationships. The employees at green companies are therefore more productive than employees in more conventional firms."
We apologize in advance for the overflowing suggestion boxes everywhere, probably.
Mind Your Melatonin
OK, so this idea is a little (ahem) tired, too. But a slew of science continutes to show how much of an impact sleep has on a person's overall health, including productivity. One key way to do this is increase production of melatonin, the sleep hormone.
"Most people don't know that exposing the eyes to ordinary light bulbs in the evening stops the body from making melatonin," Dr. Richard Hansler, of John Carroll University in University City, OH, told Medical Daily in an email. "Using light bulbs that don't make blue light or wearing glasses that block blue light solve the problem."
Put another way: Insomnia is costing an average worker in the United States 11.3 days, or $2, 280 in lost productivity each year, according to a study in the American Academy of Sleep Medicine. Making sleep a priority will have a positive effect in all areas of life.
Stop Working
Another countintuitive idea, but simply put: Working too much puts an employee at risk for burnout. When you're burned out, there's no chance any work will get done, let alone to the best of your ability. Taking the time to assess what you really need, be it any or all of these tips, plus a mid-day workout or time out-of-the-office to recharge, will have a domino affect on both productivity and your health.
Published by Medicaldaily.com