How To Spice Up The Bedroom: 5 Proven Ways To Set The Romantic Mood For A Better Sex Life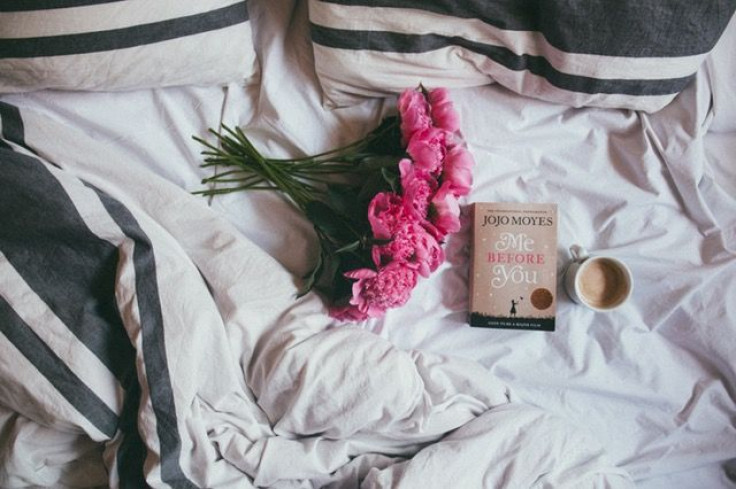 Setting the mood in the bedroom is an essential part of sex. A smelly, dirty pile of clothes on the floor or tacky decor can make the difference between a bird's nest and a love nest. A bedroom's sex appeal can influence how sensual and sexual we feel with our partner, and whether we'll have a hot or cold night underneath the sheets.
The master bedroom is a place where love and romance thrives; it has to be seductive and inviting. When we decorate the space, it's important to decide what mood we want to set and stick to it with every choice. For example, if we want to make romantic love, then we should invest in setting the atmosphere to reflect romance.
Read More: Science May Help Jump Start Your Sex Drive
A 2015 survey conducted by U.S. Houzz Bedroom Trends found one-third of homeowners were renovating their master bedrooms to create a more romantic or intimate space. Contemporary finishes, soft neutral color palettes, more pillows, and no strong patterns were seen as the top preferences. Most renovators admitted the master bedroom must be "stylish and beautiful" (73 percent) and "feel like a sanctuary" (54 percent).
Upgrading the bedroom to be more romance-friendly doesn't have to put a dent in our wallet. There are several proven ways to spice up the boudoir, from bed position to bedroom color. This will help set the mood for both ourselves and our partners to focus on one another.
Be Clean And Organized
A clear space will promote a clear state of mind. A dirty, cluttered bedroom will only invite chaos and uncertainty into the bedroom. Claudia Six, Clinical Sexologist & Relationship Coach, author of the book Erotic Integrity: How To Be True To Yourself Sexually, says "The macrocosm reflects the microcosm." In other words, a clear, uncluttered mind helps to set the mood, especially for women.
"If a woman is noticing all that needs to be tidied up, she will not be present for sex. And it's impossible to get aroused if you're in your head and not in your body," Six told Medical Daily.
Those of us limited with space may have our clean laundry in our master bedroom for lack of another space. Rabbi Shlomo Slatkin, a certified Imago relationship therapist, suggests to put the hampers in the closet and close the closet doors, or purchase some laundry bags that have a design so the hampers will not be an eyesore.
"This may sound trivial to you, but if your marriage is lacking intimacy and romance, your master bedroom maintenance MUST become a priority!" she told Medical Daily.
Read More: 5 Ways To Boost Sexual Performance And Improve Your Health, According To A Man
Make The Bed The Focal Point
The way the bed's placed in the room can help promote healthy, sexual energy. If the bed is featured prominently in a well-decorated room, that can be inviting, says Six. Or, if the bed is cozy in a small room, that can be appealing too.
However, for exhibitionists, Six suggests, "have the bed in front of the window with open drapes, to increase the chances of some passerby seeing you, adding to your thrill," she said.
If possible, it's best to avoid placing the bed in a corner. Slatkin says shoving the bed off to a corner will make the "energy" of the master bedroom become more like a dorm room, or a room that is lived in by a single person (if you're a married couple).
"Your bed needs to be prominently placed — in the center of a wall facing the door perhaps" said Slatkin.
Paint Bedroom Wall
The color scheme of a bedroom is crucial when it comes to setting the mood. Room color can influence our moods and our thoughts. A 2012 survey conducted by British retailer Littlewoods.com revealed the amount of sex we have varies by the color of our bedroom and the type of bedding. Researchers found a purple bedroom with silk sheets can lead to a romantic night in.
Edgar Marroquin, owner of EM reDesign and ABQ Home Staging in Albuquerque New Mexico, has seen many people immediately go to reds and other warm colors for the bedroom. However, "I think soft romantic colors are wonderful for boosting sexual appeal. A soft color palette can make you feel relaxed and sensual," he told Medical Daily.
A 2013 study by Travelodge confirms a soft color palette, like caramel, is one way to have more sex. Over 2,000 couples with caramel-colored walls had the most sex out of everyone. Those surveyed reported they did it about three times a week.
Dim Lighting
Changing the lighting in the bedroom to one that is a bit softer can help set the mood. A 2013 study found dimming the lights can spark creativity (a plus in the bedroom), and lower inhibitions. The researchers concluded dim illumination heightens perceived freedom from constraints, which in turn improves performance.
Slatkin admits dim lighting also hides imperfections.
"It's well known the dimmer lighting is used to hide imperfections on our bodies so why not use it to hide the imperfections of our lifestyle?" she said.
Avoid Controversial Propaganda
The bedroom is a place of creativity and freedom of expression. However, something that is controversial or political can shift the energy from sexual to aggressive — not in a good way. Six says, "Conflict creates distance, not romance." In the case of politics, it's cerebral, and sex is primarily physical — this makes us be more in our head than our body.
Spicing up the bedroom involves a few small changes in decor to promote more sexual energy.
See Also:
7 Science-Backed Tips For A Better Sex Life
4 Sexercises That Can Improve Your Sex Life
Published by Medicaldaily.com