Ibrance, Approved Pfizer Breast Cancer Drug, Impresses In Latest Study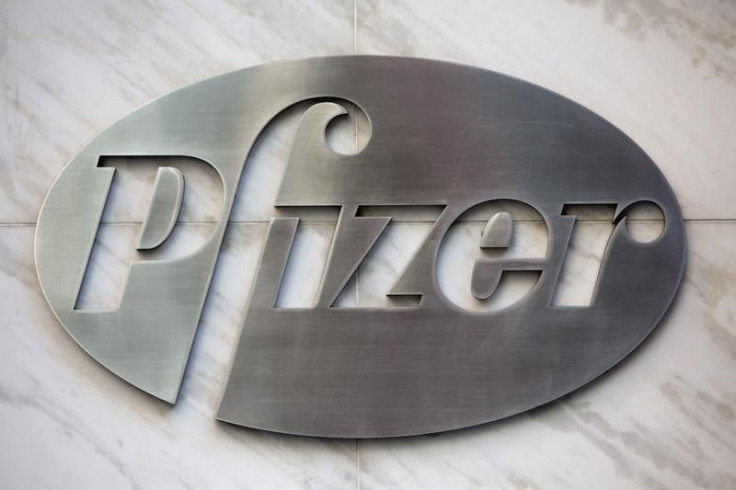 (Reuters) - Pfizer Inc said on Wednesday the first formal late-stage trial of its approved treatment for advanced breast cancer, Ibrance, was stopped early after the medicine met its goal of delaying progression of the disease in previously treated patients.
J.P.Morgan analyst Chris Schott said in a research note that the successful trial results should boost demand for the recently approved treatment, which works differently than approved medicines and has blockbuster sales potential. Some analysts have predicted the drug could eventually generate annual sales of more than $5 billion.
Pfizer said the Phase 3 study, called Paloma 3, was halted after an independent data monitoring board determined that Ibrance, also known as palbociclib, had proven its effectiveness among patients with advanced disease who had previously been treated with anti-estrogen drugs. Data from the study will be presented at an upcoming medical meeting, the largest U.S. drugmaker said.
Patients taking Ibrance in combination with AstraZeneca Plc's Faslodex (fulvestrant), a widely used treatment to block estrogen, were deemed to have fared better in terms of disease progression than those taking Faslodex alone.
The trial enrolled patients whose breast cancer was classified as estrogen-receptor positive, human epidermal growth factor receptor 2-negative (ER+/HER2-).
Ibrance was approved by the U.S. Food and Drug Administration in February for such patients, but only ones who had not previously been treated for advanced disease.
The accelerated approval was based on results of a study that showed Ibrance delayed progression of disease significantly longer than Novartis AG's Femara(letrozole), a member of another class of breast cancer treatments called aromatase inhibitors.
Pfizer is conducting a large trial called Paloma-2, which ithopes will confirm the benefits of Ibrance as a first-line treatment, in combination with Femara.
Ibrance works by blocking two enzymes, cyclin-dependent kinase 4 and 6, that are involved in cell growth.
A number of other drugmakers, including Eli Lilly and Co, are testing drugs that block the same or similar enzymes, as potential treatments for various cancers.
Pfizer shares were up 0.9 percent at $35.34 in afternoon trading on the New York Stock Exchange.
By Ransdell Pierson
(Additional reporting by Vidya L Nathan in Bengaluru; editing by Matthew Lewis)
Published by Medicaldaily.com