Ice Cream Made With 'Turkey Juice,' And Other Odd Thanksgiving-Flavored Desserts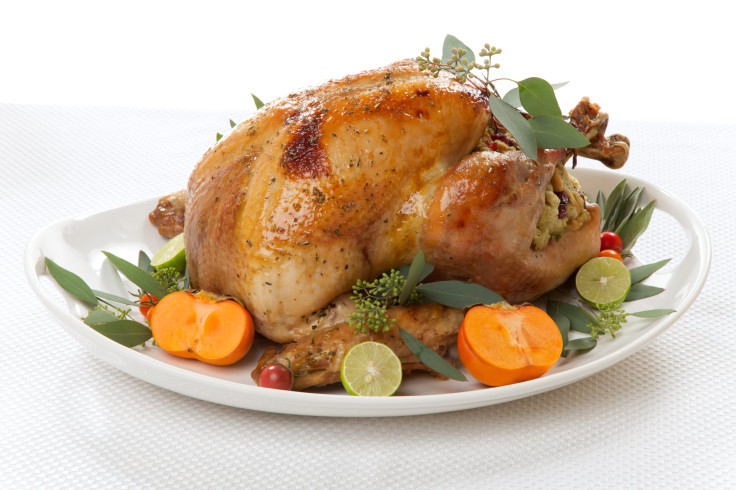 As if Thanksgiving wasn't going to provide us with enough rich food, turkey-flavored ice cream now exists. Developed by Salt & Straw in Portland, Oregon, the new dessert is one of many strange, potentially delicious, and probably over-the-top Thanksgiving-flavored foods and desserts out there.
Salt & Straw has previously tried experimental ice cream flavors like ham and blue cheese, but has now come up with five seasonal flavors, including Apple Cranberry Stuffing, Sweet Potato and Candied Pecans, Pumpkin Custard and Spice Chevre, Mincemeat, and Salted Caramel Thanksgiving Turkey, which is made from turkey juice, caramelized onions and turkey-skin brittle mixed with a turkey fat-caramel cream.
Among the other strange fall-inspired sweets, there is a turkey-filled pumpkin donut that is being produced at Zucker Bakery in New York City. The donut is also stuffed with cranberry sauce, or gravy if so desired. Other donuts created by the bakery include a pumpkin donut that contains sweet potatoes mixed with marshmallows.
The Actual Healthy Part Of Thanksgiving
Though Thanksgiving is notorious for being a day of rich over-eating, it doesn't have to be the least healthy day of the year. The actual basic ingredients of a Thanksgiving dinner can be quite healthy if prepared simply. Besides, all the hype over turkey fat-caramel ice cream and pumpkin-flavored foods isn't the most natural way to celebrate the holiday, and such seasonally-flavored products are often a way for companies to cash in during the fall time period. The New York Times recently released a short animation video showing that most pumpkin-flavored food out on the market during this time of year has very little to no actual pumpkin in it, but instead is pumped with lots of sugar and artificial flavoring.
Turkey, for one, is a low-fat meat that's high in protein. Stuffing and gravy, if prepared properly, can be made to consist of less salt and fat than canned gravy. There are several recipes for healthy gravy, for example, which include using low-carb thickeners, or using whole wheat or barley flour as an alternative. Boiling and pureeing vegetables like zucchini or eggplant into a soft paste is a good alternative to add some taste to your meat. Dropping the gravy completely and adding cranberry sauce to your turkey is also an excellent and tasty combination. Cranberries contain a lot of antioxidants and are also being investigated for their properties that may fight cancer, stroke and viral infections.
Sweet potatoes (sans the marshmallows) are known to be high in fiber – they contain about 7 grams of fiber per serving – and also have a large amount of vitamin B6. The orange potatoes are actually considered "slow burning," meaning their caloric energy burns more slowly and efficiently than other carbohydrates. They are also rich in potassium, vitamin A, and manganese.
And believe it or not, pumpkin pie filling (not counting the pie crust and whipped cream, of course) isn't bad at all – a cup of filling only has about 50 calories and contains 3 grams of fiber. Pumpkin itself also contains antioxidants; but don't confuse it with the pumpkin "flavors" that are pumped into your lattes these days.
Published by Medicaldaily.com