IOC Will Not Tolerate Athletes Openly Defending Gay Rights At 2014 Winter Games; Will Gay Athletes Be Target Of Russian Anti-Gay Law?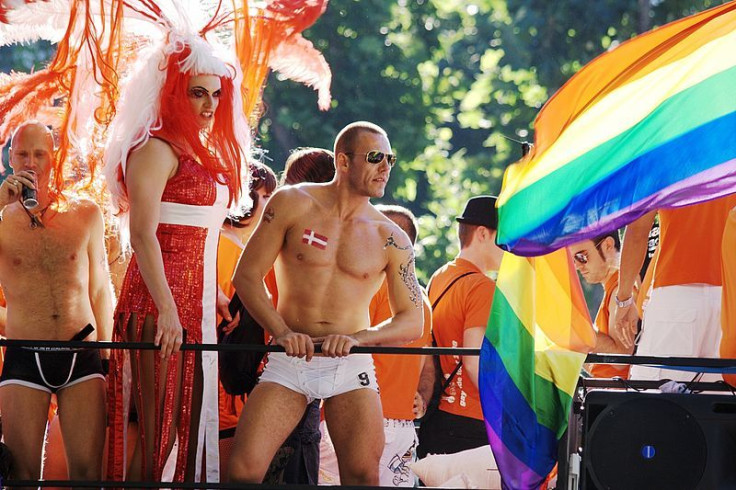 One-hundred-and-seventy-five days remain until the commencement of the 2014 Winter Games in Sochi, Russia. While athletes around the world continue to train vigorously for a chance to win the gold medal for their countries, several Olympic participants are preparing for a different kind of fight — to openly defend gay rights in Russia. The country's new anti-gay propaganda law is said to remain in effect during the Sochi Winter Olympic Games in 2014, reports Gay Star News. However, the International Olympic Committee (IOC), which supports the rights of gays and lesbians to compete in the Olympics, has publicly announced that it will not tolerate participants who show solidarity for the lesbian, gay, bisexual, and transgender (LGBT) community during the Winter Games. "[We will] treat each case individually and take a sensible approach depending on what was said or done," said the IOC about athletes who use the Olympics as a platform to protest Russia's anti-gay laws.
Read more: Gay And Bisexual Men Protest FDA Ban On Blood Donation Through National Gay Blood Drive
A spokeswoman from the IOC told MSN News in a statement issued on Wednesday that Rule 50 of the Olympic Charter makes it clear that the Winter Games are not a place for protests or demonstrations. The committee says this rule specifically aims to separate sport from politics in order to preserve the tradition of the Games. "Rule 50 of the Olympic Charter is in place to protect the athletes and all participants and make sure the field remains neutral," said IOC spokeswoman Sandrine Tonge to MSN News who believes the characterization of the rule could be misleading.
While Rule 50 is enforced to allegedly protect the LGBT athletic community, the IOC will reprimand those who openly defend gay rights. Athletes who wear rainbow pins or any form of propaganda in support of the LGBT community during the Games will be punished by the IOC. In an interview with GSN, the IOC was asked what the global Olympic chiefs thought about athletes who were to hold hands during the opening and closing ceremonies in Sochi and if a "Pride House" would be made available for LGBT athletes and others during the games to celebrate gay pride in sports and the community. The IOC merely responded with excerpts from the Olympic Charter.
Athletes at the Winter Games who wish to show their support for the gay community by wearing a rainbow pin would risk arrest by Russian authorities and possible ban by the IOC. But, not everybody from the IOC agrees with punishing athletes for defending gay rights. Jacques Rogge, IOC President, believes that all Olympic visitors should be allowed to speak and act openly at the Games, reports The Independent.
Read more: Do Same Sex Parents Impact The Mental Health Of Their Children? Some US States Say 'Yes' And Prohibit LGBT Adoption
One American athlete who is not afraid of getting arrested in order to support the gay community is the openly gay U.S. figure skater, Johnny Weir. "Like anyone I'm afraid of being arrested but also I'm not afraid of being arrested… If it takes me getting arrested for people to pay attention and for people to lobby against this law then I'm willing to take it," he said to CBS News.
Currently, Russia's anti-gay propaganda law has loopholes that leave many wondering if openly gay Olympians could risk arrest. According to the Russian law signed by President Vladimir Putin in June, "propaganda of nontraditional sexual relations" is banned in Russia and there will be set fines for those who hold gay pride protests.
While the fates of international athletes who support gay rights remain unknown for the Sochi 2014 Olympic Games, this dilemma has spurred a tremendous outpour of support for the LGBT community.
Read more: Heath And Human Services Release Statement Of Gains Marking LGBT Health Awareness Week
Swedish high jumper Emma Green Tregaro and sprinter Moa Hjelmer painted their fingernails with rainbow colors in honor of the LGBT community while they competed at the world championships in Moscow.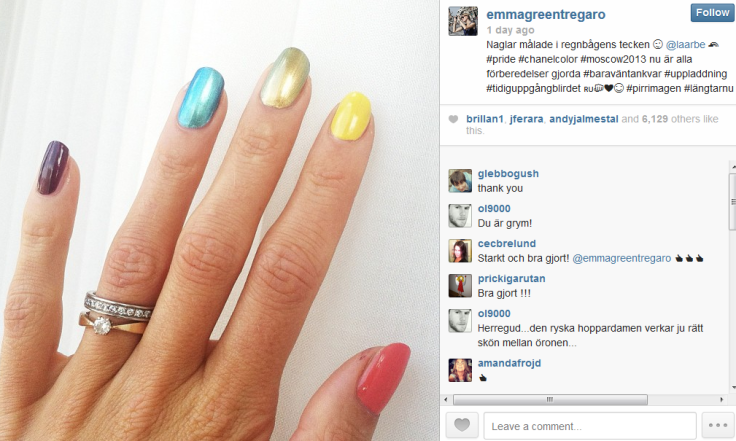 Published by Medicaldaily.com