Jermichael Finley Injury: Packers TE Admitted To ICU After Neck Injury [VIDEO]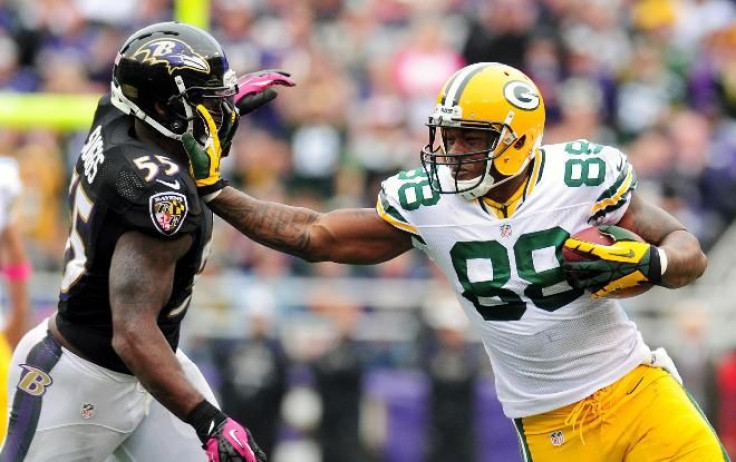 The Green Bay Packers and Cleveland Browns' sidelines were silent on Sunday after a big on-field collision left Jermichael Finley motionless. The Packers tight end was admitted to a hospital's intensive care unit (ICU) on Monday due to a neck injury sustained during Green Bay's win.
The hit occurred with just over 10 minutes left to play in the fourth quarter when Browns safety Tashaun Gipson collided with the top of Finley's helmet. Although Gipson states he led with his shoulder, he was issued an unnecessary roughness penalty for leading with his helmet.
"[It was] all shoulder. The crown of my head did not go down whatsoever. It was a shoulder hit," Gipson told ESPN. "I really haven't watched the play, so I can't really tell you what happened. I was just going out there playing physical."
While there is no official word on how long Finley is expected to sit out, a source close to the team announced that he was walking around and moving all of his extremities. Andrew Quarless, a teammate and fellow tight end, was the first to notice Finley on the ground and admitted to shedding a tear while he was being carted off the field.
"He couldn't move at the time, so I just told him, 'Just stay here, just lay here, don't move,'" Quarless told ESPN. "That look he had in his eyes, that was something that stuck with me. It really hurt me just to see him like that. My brother was out there on the ground."
Helmet-to-helmet hits in the NFL receive a great deal of attention due to the long-term effects that a concussion can have on a player's health. Finley suffered a concussion in week three when Cincinnati Bengals safety George Iloka collided with his helmet.
"There's not a whole lot to be said. It's a reminder of how tough this game is. Injuries are part of the game but those are tough to see," quarterback Aaron Rodgers told reporters.
Published by Medicaldaily.com