J&J, Alphabet Aim For Smarter, Smaller, Cheaper Surgical Robot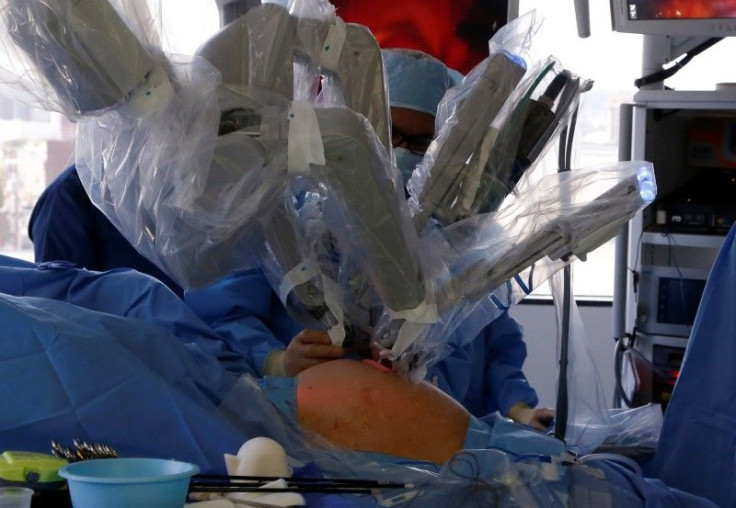 (Reuters) - Johnson & Johnson and Alphabet Inc's life sciences unit have formed an independent company to create far smaller, smarter and less costly robotic-assisted systems for surgery than those sold now by other companies, J&J said on Thursday.
Creation of the new company, Verb Surgical Inc, follows an announcement in March by J&J and Google Inc of their plans to pool their technologies and expertise to create robotics for the operating room. Google has since changed its name to Alphabet, and its life sciences unit is now called Verily.
J&J's Ethicon division, world leader in equipment for general surgery, designed a basic prototype of the robot last year and expects it to be a "disruptive" alternative to existing products, Gary Pruden, global chairman of J&J's medical devices group, said in an interview.
Current robotic systems, including those sold by market leader Intuitive Surgical Inc, are the size of a compact car and require the surgeon to sit at a control panel about 10 feet from the patient, Pruden said.
Verb's robot will be about 20 percent the size, allow the surgeon to work closer to the patient and likely be considerably less expensive than current systems, which can cost $2 million or more, he said.
And while robots today are used largely to remove cancerous prostate glands and in gynecological surgery, Verb's system would be designed for wider use, including thoracic surgery, colorectal surgery and bariatric weight loss procedures, J&J said.
It would come loaded with technologies from Alphabet, including "machine learning," in which the robot could analyze a video library of images from hundreds of previous surgeries in order to instruct the surgeon where to cut.
Pruden said further development of Verb's robot will take a few more years.
"Our goal is to have a lower-cost product, with the smallest footprint, with greater capability, that helps to raise the standard of care," Pruden said. "That would be a market disruption."
Scott Huennekens, former chief executive of medical imaging company Volcano Corp, has been named CEO of Verb, which will be headquartered in Mountain View, California.
Verily already has several projects in the works, including the development of a smart contact lens in partnership with Swiss drugmaker Novartis that has an embedded glucose sensor. It would allow diabetics to monitor themselves continuously by measuring the blood sugar in their tears.
(Reporting by Ransdell Pierson; Editing by Leslie Adler)
Published by Medicaldaily.com