KaloBios Fires Shkreli As CEO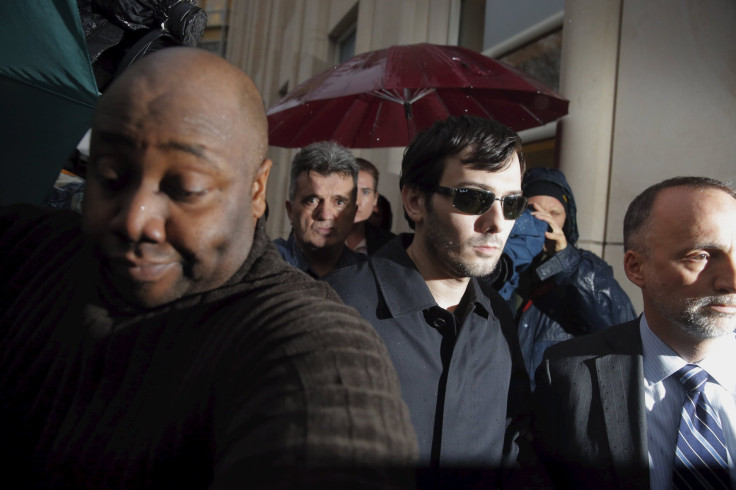 (Reuters) - Drugmaker KaloBios Pharmaceuticals Inc said it fired Martin Shkreli as chief executive on Dec. 17, the day he was arrested on charges of a securities fraud.
Shkreli, who has become the poster child for the issue of soaring prices for prescription medications, has already stepped down as CEO of private drugmaker Turing Pharmaceuticals Inc, in addition to resigning from KaloBios' board of directors.
Shkreli was arrested last week for engaging in what U.S. prosecutors said was a Ponzi-like scheme at his former hedge fund MSMB Capital Management and Retrophin Inc , a company he headed before he took the helm of Turing Pharmaceuticals.
After buying a 60-year-old anti-infective drug often used by AIDS patients earlier this year, Turing raised the price overnight to $750 a tablet from $13.50.
The increase propelled Shkreli to the media spotlight: Presidential candidate Hillary Clinton pilloried him for gouging, and he was pulled into congressional drug pricing investigations.
The government charges do not include activities at privately held Turing.
Shkreli, who was arrested on Thursday and released soon after on a $5 million bond, said he has been the target of legal authorities for his much-criticized drug-price hikes and his over-the-top public persona, the Wall Street Journal reported on Monday.
"'Trying to find anything we could to stop him' was the attitude of the government," Shkreli told the Journal in an interview, saying he was arrested because of a social experiment and teasing people over the Internet, deeming the arrest unjust.
An FBI spokeswoman declined to comment on the WSJ report.
In a separate incident, Shkreli lost control of his Twitter account to hackers on Sunday, hours after he took to the microblogging service to plead his innocence, said his spokesman, Craig Stevens.
Shkreli tweeted late Monday morning saying he had regained control of his account. (http://bit.ly/1OGnJeJ)
KaloBios, which was planning to shut shop, named Shkreli as its CEO on Nov. 20, after Shkreli and a consortium of investors bought about 70 percent of the company's shares.
The drug developer said on Monday that Tony Chase, who was appointed to the company's board along with Shkreli, had also resigned.
A class action lawsuit was filed on behalf of KaloBios shareholders on Friday in the United States district court in the Northern District of California.
It alleged that Shkreli made false and/or misleading statements, as well as failed to disclose material information about the company's business.
Trading in KaloBios shares was halted on Monday for the third straight session.
(Reporting by Vidya L Nathan in Bengaluru; Editing by Saumyadeb Chakrabarty, Kirti Pandey and Shounak Dasgupta)
Published by Medicaldaily.com