Leukemia Treatment Breakthrough: Previously Untested Cell Therapy Saves Baby With 'Incurable' Cancer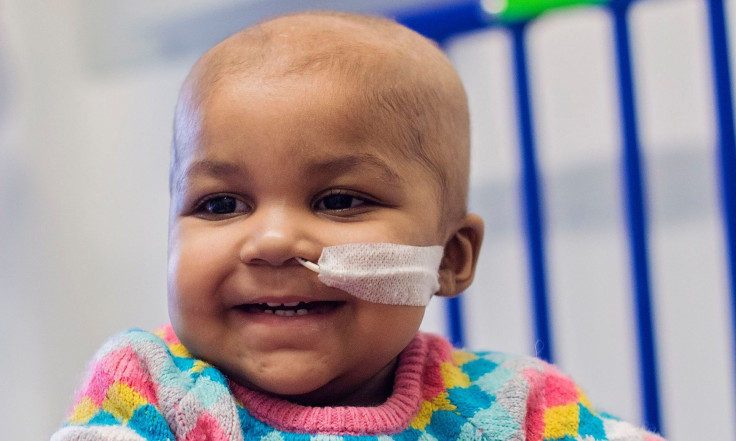 It's a parent's worst nightmare to find out that their baby — at not even 1 year old — has cancer. Even more devastating, to hear that that cancer is "one of the most aggressive forms of the disease" that doctors have ever seen. That was reality for Lisa and Ashleigh Richards, whose 14-week-old daughter Layla was diagnosed with infant acute lymphoblastic leukemia (ALL) after being taken to the doctor for excessive crying and a fast heartbeat.
After several rounds of chemotherapy and a bone marrow transplant, doctors at the Great Ormond Street Hospital (GOSH) explained that there were no treatment options left for Layla, and offered palliative care.
"We didn't want to accept palliative care," said Lisa, in a press release. "So we asked the doctors to try anything for our daughter, even if it hadn't been tried before."
Professor Waseem Qasim, Professor of cell and Gene Therapy at the UCL Institute of Child's Health (ICH) and Consultant Immunologist at GOSH, knew of just the thing.
Recent developments had been made in the lab regarding a treatment where immune cells (T-cells) are programmed through gene therapy to identify and kill cancerous cells. Oftentimes, though, leukemia patients do not have enough health T-cells to collect in the first place, meaning doctors must use modified T-cells from donors. A team at GOSH and the UCL ICH, along with scientists at the University College London and biotech company Cellectis, had been developing a bank of donor T-cells (called UCART19 cells) to be used in the final stage of testing before clinical trials could begin. When Qasim heard of Layla's case, it was these cells that came to mind.
"The approach was looking incredibly successful in laboratory studies, and so when I heard there were no options left for treating this child's disease, I thought, 'Why don't we use the new UCART19 cells?'" Qasim explained. "The treatment was highly experimental and we had to get special permissions, but she appeared ideally suited for this type of approach."
Layla's parents agreed to the treatment. The process consisted of 1ml of UCART19 cells delivered via intravenous line. After receiving the cells, Layla remained in isolation to avoid infections while her immune system was extremely weak. After a few weeks, there were signs that the treatment was beginning to work.
"As this was the first time that the treatment had been used, we didn't know if or when it would work, and so we were over the moon when it did," said Professor Paul Veys, director of bone marrow transplant at GOSH and the patient's lead clinician. "Her leukemia was so aggressive that such a response is almost a miracle."
After some time, doctors were confident the leukemia cells were gone. They gave Layla a bone marrow transplant to replace her entire blood and immune system, which had been wiped out from the treatments. She is now recovering at home, though she'll return to GOSH for regular checkups on her bone marrow cells and blood count.
Though Layla's case was a huge success, doctors warn about making assumptions about the treatment.
"We have only used this treatment on one very strong little girl, and we have to be cautious about claiming that this will be a suitable treatment option for all children," Qasim said. "But this is a landmark in the use of new gene engineering technology, and the effects for this child have been staggering. If replicated, it could represent a huge step forward in treating leukemia and other cancers."
This breakthrough comes not long after a similar success in leukemia treatments. Recently, scientists at The Scripps Research institute conducted a groundbreaking study in which they were able to transform malignant leukemia cells into cells that resembled the body's natural killer cells. These cells recognized and destroyed the very leukemia they were made from — an astonishing step forward in new cancer treatments.
Though cancer has proven its resilience and cunning time and time again, this recent wave of medical breakthroughs is a good reason to hope that soon our treatments will be just as formidable.
Source: Qasim W, Amrolia P, Samarasinghe S, Ghorashian S, Zhan H, Stafford S, et al. 2046 First Clinical Application of Talen Engineered Universal cAR19 t Cells in B-ALL. American Society of Hematology. 2015.
Published by Medicaldaily.com