Metro The Painting Racehorse Sells Abstract Art To Cover Medical Expenses; Works By Arthritic Belmont Stakes Champion Sell For $2,100 At Auctions [VIDEO]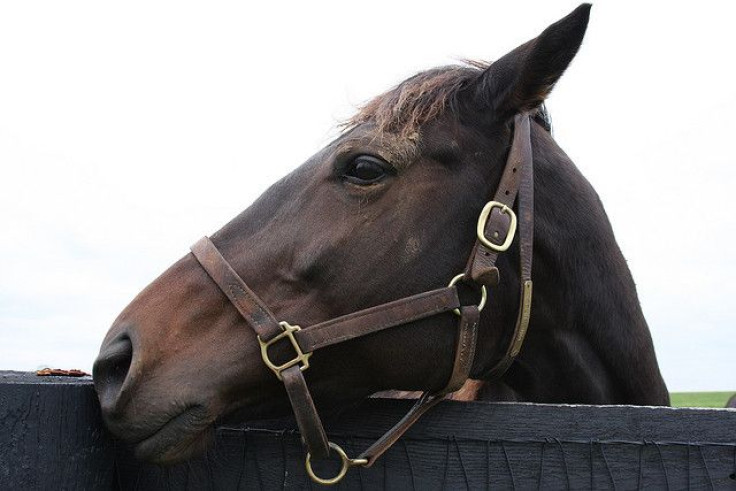 With his days of turf racing glory long gone, Metro Meteor has hit a rough patch. Since the ten-year-old racehorse retiree was forced to get out of the game in 2009, he has developed an array of chronic health complications. Having presumably blown his $300,000 career winnings on horse stuff, the down-on-his-luck Belmont Stakes champion has turned to abstract art to keep the medical bills from piling up.
When arthritis and bone chips ended Metro Meteor's career four years ago, he was acquired by painter and artist Ron Krajewski, who owned a three percent stake in the award-winning horse. At that point, Metro was already exhibiting limited mobility. Speaking to ABC News, Krajewski said that veterinarians expected his health to deteriorate further.
"He was our first horse. We got him for free from the stable," Krajewski told reporters. "But he never got above 50 percent with his knees. He was always struggling with his health. Then last fall he was diagnosed with bone growth in his knees. They said that within two years, his knees would lock up."
In an effort to bond with his ailing friend, the pet portraiture expert set to work teaching the animal how to paint. Although his first painting "definitely looked as if it was done by a horse," Metro gradually developed considerable skill. Over the course of days, the two would create abstract, multilayered pieces.
Realizing Metro's talent, Krajowski decided to put one of his works up for sale. The first one sold for $300. As word of the equine artist began to spread, the pieces began to sell for thousands of dollars in online auctions. The proceedings are now used to fund a new type of treatment.
"The treatments were thousands of dollars. We couldn't have done that without his painting," Krajewski said. "[The veterinarian] did it in a new way. The drug hadn't been used on a horse's knees before. It felt like a last resort. We'd tried everything for him. It's been phenomenal. He's better than he ever was, and he's not going to die in two years."
Metro's paintings are also on display at Gallery 30 in Gettysburg, Pa., where 80 clients are currently waiting to buy his art as soon as more work becomes available. According to Krajewski, half of the earnings go to the New Vocations Racehorse Adoption Program, an organization that helps other racehorses find new homes.
Published by Medicaldaily.com