'Mono Mono' Twins, Born Holding Hands, Finally Sent Home After Nearly A Month Of Neonatal Care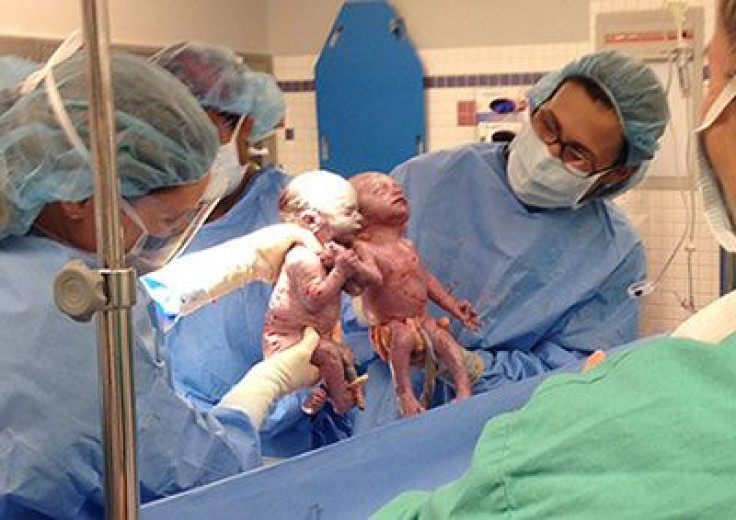 After a month of neonatal care at Akron General Medical Center in Ohio, monoamniotic twins Jenna and Jillian Thistlethwaite are returning home just in time for Father's Day. The so-called "mono mono" twins were photographed holding hands moments after being born 45 seconds apart on May 9 to parents Sarah and Bill. "It was as if they were saying, 'We've got this. We're going to be okay. We've got each other,'" Sarah said in a statement.
According to Akron General, monoamniotic twins, two babies in one amniotic sac, are a rare occurrence, affecting one out of every 10,000 twin pregnancies in the United States. "Mono mono" twins are conceived from a single egg/sperm combination that splits into two, after which they share one amniotic sac and placenta. Monoamniotic twin deliveries carry a higher risk due to possible cord entanglement and compression as the babies grow and move.
At 4 lbs. 3 oz. (Jenna) and 3 lbs. 13 oz. (Jillian), doctors decided the pair would have to remain in the hospital's neonatal intensive care unit to help with their progression. Sarah and Bill were splitting their time between the hospital 40 minutes away from their home and their 15-month-old son Jaxon. On Saturday, doctors cleared the twins to return home with their family after weighing in at nearly 6 lbs. Sarah could not have been happier to finally have the whole family together.
"It's just nice to have everyone under the same roof," Sarah told the Associated Press. "It was really stressful — you want to pay attention to the little one at home and you just gave birth to two little babies. It was a pull and a tear as to where to go. We were so excited and kept thanking God we made it to that point. Having them here is amazing, but having them here so healthy when they were premature, it's absolutely phenomenal."
Published by Medicaldaily.com