New Study Says Acupuncture Could Be Viable Alternative To Pain Medication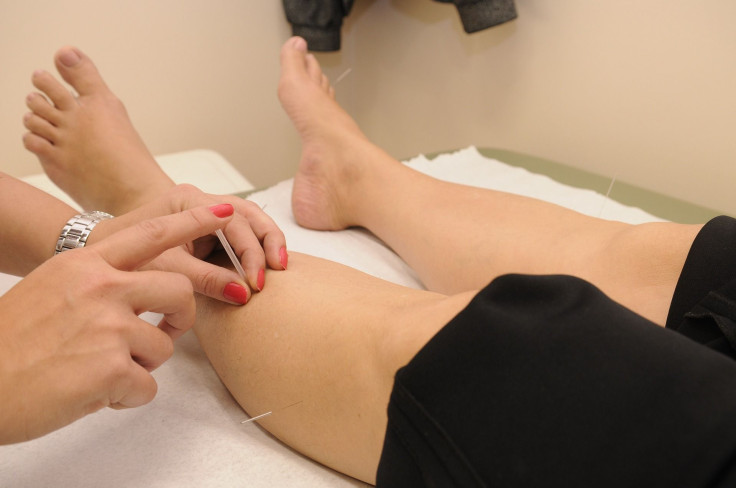 Acupuncture is often thought of as an alternative therapy, but a new study validates the treatment for use in relieving pain. Researchers at RMIT University in Melbourne, Australia, conducted the largest ever randomized controlled trial to look at acupuncture use in emergency rooms, and found the practice to be an effective pain reliever for some patients.
Read: How Fentanyl, A Drug Prescribed For Cancer Patients, Is Fueling Opioid Epidemic, Alarming Overdose Rates
The team studied 538 patients experiencing acute low back pain, migraines or ankle sprains that sought treatment in emergency rooms. Pain was ranked on a scale of 10 points, and those who scored at least a four received either acupuncture, acupuncture and medicine, or just medicine. About an hour after being treated, less than 40 percent reported feeling any relief. However, within two days, almost everyone fared better. About 82 percent of those who only received acupuncture said they would opt for that treatment again, compared to 80 percent who received both and 78 percent who were prescribed medication only.
Study co-author Professor Marc Cohen, from RMIT's School of Health and Biomedical Sciences, said that acupuncture is actually widely used as a pain treatment, just not in hospitals.
"While acupuncture is widely used by practitioners in community settings for treating pain, it is rarely used in hospital emergency departments," Cohen said in a statement. "Emergency nurses and doctors need a variety of pain-relieving options when treating patients, given the concerns around opioids such as morphine, which carry the risk of addiction when used long-term."
There's been a lot of talk about the opioid epidemic recently. As we previously wrote, The New York Times reported that last year's death rates by drug overdose is on pace to surpass 59,000 people, which is the largest per-year increase ever. The paper points out that drug overdoses have become the main cause of death for those under 50 years old. Although a complex situation that isn't likely to be solved anytime soon, many healthcare and policy experts have an idea of how to help the situation, including fewer prescriptions for pain medication. Some believe that doctors are far too liberal with offering up opioids and should be more prudent when prescribing. Finding solutions, such as acupuncture, could be one more way to decrease addiction.
"Some Australian emergency departments already offer acupuncture when trained staff are available but further studies are needed on ways to improve pain management overall in emergency departments, and the potential role for acupuncture in this," Cohen said.
Read: Hepatitis C Cases Nearly Double In Pregnant Women Due To Opioid Epidemic
Of course, this research is just a starting point. Science still needs to figure out the best uses for acupuncture.
"We need to determine the conditions that are most responsive to acupuncture, the feasibility of including the treatment in emergency settings, and the training needed for doctors or allied health personnel," Cohen explained.
See Also:
Valium For Lower Back Pain? Diazepam As Effective As Placebo, Study Says; Yoga, Acupuncture And Other Alternative Treatments
Sleep And Caffeine Could Help You Naturally Fight Off Chronic Pain
Published by Medicaldaily.com