Nine Ways To Cut Your Health Care Costs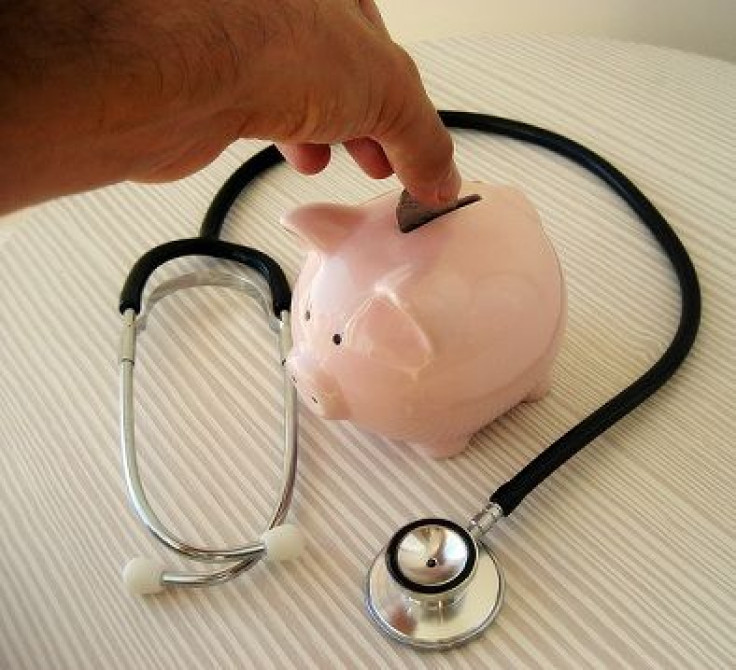 Being involved in your medical decision process is a good thing, right?
Well, sort of. A recent study found that patients who participate in decisions concerning their health care also get slammed with bigger hospital bills.
With rising health insurance premiums, and medical costs taking bigger dips into your budget, it's a good idea to search for ways to save. Below are nine easy ways to prevent your health care from breaking the bank.
1) Mobile Apps - LowestMed
Search. Compare. Save. With three simple steps, LowestMed is a free app that provides consumers with prescription drug pricing information. Download the app to your mobile device to start reducing your health care expenses.
Plug in a prescription name, type your zip code, enter the dosage and quantity of your prescription, then sit back and wait. LowestMed will then pull up a list of local pharmacies detailing the prices for your search. The app includes both generic and brand name drugs.
2) Healthcare Blue Book
Healthcare Blue Book is an online health care pricing system designed to help you find fair prices for services in your area, including surgery, hospital stays, doctor visits, lab tests, and cosmetic surgery. Healthcare Blue Book also offers a host of other resources about obtaining health insurance and understanding health insurance jargon. Don't know about deductibles? Curious about co-pays? Hopeless when it comes to HSAs and HRAs? Healthcare Blue Book will help you sort it all out. In addition to the website, you can get the free app for your Apple or Android.
3) Consider a Health Savings Account (HSA)
Do you have a high-deductible health plan? Then you're eligible for a health savings account (HSA), which you can use to cover medical expenses (co-pays, deductibles, dental care, vision services).
HSAs were created to help people control their health care costs - with the incentive of people spending health care dollars more wisely if using their own money. Many people aren't aware that having an HSA can save them money on taxes. Any unused money will grow, tax-free, and roll over (stay in your account) to the next year. HSAs have their advantages and disadvantages, of course.
Some perks: you decide how much money to set aside, you control how your HSA money is spent, and while your employer may contribute to your HSA, you own the account - meaning the money is yours even if you change jobs. Potential disadvantages: it can be challenging to set money aside for an HSA, and if you remove funds from your HSA for nonmedical expenses, you will have to pay taxes on them.
To learn more, consider contacting an accountant or tax consultant who can help you decide if an HSA is right for you.
4) Medicare Supplement Plans (Medigap)
For Americans over 65, health care costs are partially covered by Medicare, a federal, taxpayer-supported program that helps seniors pay for their medical care, including screenings, diagnoses, treatment, and other forms of medical support. The problem is Medicare doesn't cover all medical costs. No matter how much money you pay into Medicare in your lifetime, Medicare coverage is limited. One option for seniors is Medicare supplement insurance, or Medigap.
Things you should know first: in order to purchase a Medigap plan, you must already be enrolled in both Medicare A and Medicare B.
Also, make sure you're clear on what Medigap policies will and will not help you pay for since their coverage will vary by the plan you choose. In general, most Medigap policies won't cover long-term care, vision or dental, hearing aids, eyeglasses, or private nursing. To decide if a Medigap policy is right for you, learn more at Medicare.gov.
5) Be Savvy About High-Deductible Plans
It might sound crazy but seeking high-deductible plans might end up saving you in the long run. How? While it means a higher out-of-pocket expense, you'll end up saving more, given that you won't be making frequent trips to the doctor. Instead of accumulating a massive monthly bill (for services you're not really using), you can pay higher one-time amounts per visit.
The result? Lower monthly payments. And to be savvy and healthy, take advantage of health and wellness preventive care programs offered by your employer. You might even get a break on premiums for enrolling in such a program.
6) Go Generic
Whether you have one prescription or several, brand-name drugs can be costly. Consider going the generic route to save money. If your doctor prescribes a medication that your plan doesn't offer at a preferred price, ask your doctor if there's an equivalent option for less.
Generics offer the same active ingredients, and work just as effectively as their brand-name counterparts with less of a dent in your wallet. According to estimates from the Food and Drug Administration, generics cost about 80 to 85 percent lower. Talk to your doctor about using a generic product, and explore how your pharmacy benefits work so you can choose drugs at the lowest price possible.
7) Buy Online
Click and purchase, all from the comfort of your living room. If you're looking to save, buying prescription drugs online may save you not only time, but also dollars. You can buy prescriptions through a national pharmacy or through a program offered by your health insurance provider. While this can be a great way to save, make sure the site is legitimate. Many "online pharmacies" are not licensed in the United States. To ensure that a site is licensed, look for the seal of the Verified Internet Pharmacy Practice Sites (VIPPS). This will indicate that a pharmacy meets the licensing and inspection standards of the National Association of Boards of Pharmacy.
8) Ask Questions
You could spend thousands a year on cutting-edge medical tests, which usually aren't covered by insurance. Or you could save money by sticking with the baseline tests recommended by the U.S. Preventive Services Task Force (PSTF), which makes recommendations for patients based on recent research. Before undergoing any medical test, ask your doctor to explain why you need it, what it will cost, and whether your health insurance will cover the expense. If your doctor recommends a test for you, check the PSTF website. And always seek a second opinion.
9) Don't Stress
About 60 to 90 percent of doctor's visits stem from stress-related factors, according to Dr. Herbert Benson, founder of the Benson-Henry Institute for Mind Body Medicine. In today's stressful world, this fight-or-flight response doesn't only result from dangerous situations.
Essentially, all those worrying what-if questions that keep us up at night release these same stress hormones and contribute to the higher number of stress-related doctor's visits.
So relax. Practice relaxation techniques to de-stress. Enroll in a yoga class, listen to soothing music, and exercise for at least 30 minutes a day.
Published by Medicaldaily.com