Obama May Turn Medicare Reform Into Wider Health Debate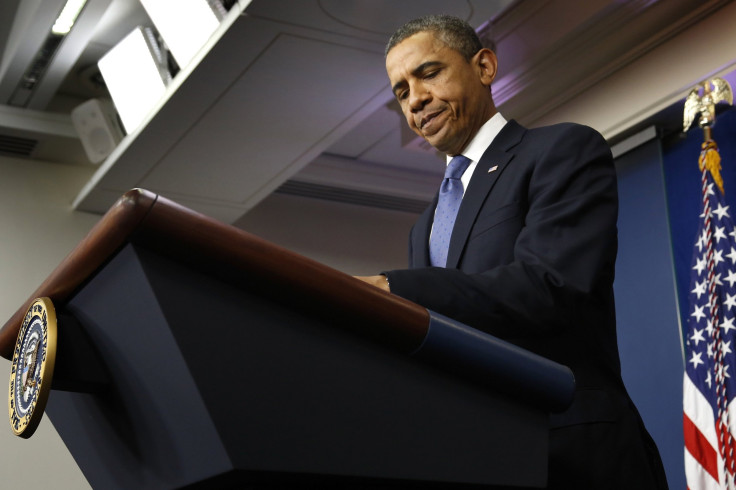 President Barack Obama could seek common ground with Republicans in the looming battle over Medicare spending by broadening the debate over entitlement reform to encompass the spiraling healthcare costs that confront a wide range of Americans.
In recent public remarks the president has identified the U.S. healthcare system's sky-high price tag - by far the highest in the world - as a driving force for Medicare reform.
The administration is expected to release a report on 2011 national healthcare expenditures on Monday that should further underline well-known trends. In 2010, health spending hovered at almost 18 percent of U.S. gross domestic product.
Healthcare experts, including former Obama advisers, say the White House appears to be considering ideas for Medicare, the popular health insurance program for the elderly and disabled, that could become models for the overall health landscape.
And in some good news for Obama, whose 2010 Affordable Care Act has been a lightning rod for Republican opposition, experts also see the political climate brightening for efforts to control the rise in healthcare costs generally.
"My expectation is that the president will offer a mix of ideas on the Medicare program that will not be about middle-income beneficiary cuts," said Neera Tanden, a former Obama healthcare adviser who heads the Center for American Progress, a think tank with strong Democratic Party ties.
"My hope is that he'll look at a variety of ideas to use this negotiation, just like we used (healthcare reform), to push forward on healthcare cost reductions," she said.
The White House declined to comment and it was not clear whether Obama plans to offer new initiatives or simply repackage existing proposals as broader cost-cutting initiatives.
Bold new steps geared to lessen the healthcare burden on all Americans could alter the tenor of the Medicare debate and help the president appeal for popular support in staving off Republican calls for deeper structural changes.
Obama's remarks have been vague so far. On December 31 he told reporters: "I'm willing to reduce our government's Medicare bills by finding new ways to reduce the cost of healthcare in this country. That's something that we all should agree on."
Analysts guess that Obama could press for more price competition among drug makers, insurers and healthcare providers within Medicare, or for an acceleration of measures adopted as part of the 2010 Act that aim to move the national care delivery system away from its current fee-for-service cost structure.
Experts also see a potential role for tax reform - specifically, a reduction of the longstanding exclusion that protects individual workers from having their employer-sponsored health coverage taxed as a benefit.
The $2.8 trillion U.S. healthcare system costs nearly $9,000 a year for every man, woman and child. Growth has long outpaced inflation by wide margins, and following the U.S. recession of 2008 and 2009 has contributed to tepid job creation, low wage expansion and a stubbornly high level of personal bankruptcies.
Medicare, long considered a program that U.S. politicians would touch at their peril, is acknowledged, along with the national Medicaid program for the poor, to be a major driver of the deficit. The aging population puts Medicare on a collision course with major financial difficulties; the so-called Medicare trust fund is on pace to run out of money in 2024.
Government forecasters say Medicare spending alone will top $1 trillion in 2021, against $590 billion today, while total U.S. healthcare spending will balloon to $4.8 trillion.
MEDICARE AS AN INCUBATOR FOR BROAD CHANGE
Obama was attacked repeatedly during the 2012 presidential campaign about the $716 billion in reductions to Medicare spending growth contained within his signature healthcare reform, which itself remains under attack from many Republicans.
New initiatives would probably not end discussion of existing proposals to shave Medicare spending, including potential higher costs for wealthier beneficiaries and a possible increase in the enrollment age to 67 from 65.
A project by the Bipartisan Policy Center, led by former Senate Majority Leaders Tom Daschle, a Democrat, and Bill Frist, a Republican, is expected to make new proposals for reining in healthcare costs in the next few weeks.
Others, including Mike Leavitt, a former aide to Mitt Romney and healthcare adviser to George W. Bush, have launched efforts to address costs among states, while the nonpartisan Commonwealth Fund plans to announce its own strategy shortly.
Medicare serves about 50 million people and accounts for more than 20 percent of U.S. healthcare spending. As such, reforms in treatment practices fostered by Medicare could very well work their way through the entire healthcare system.
Analysts say Obama could embrace the policies proposed in 2012 by Tanden's group, which contends that billions of dollars can be saved by expanding competitive bidding within Medicare, making costs and services more transparent, slimming down administrative costs and reforming medical education.
Those initiatives, they say, could be combined with current White House proposals that seek to realign Medicare's drug payment policies with Medicaid for poorer beneficiaries, adjust payment increases to acute-care providers, increase means testing for outpatient care and drug benefits and change the way Medicare compensates providers for bad patient debts.
Any changes that look like the imposition of government price controls would not pass muster with Republicans, warned Alison Fraser of the conservative Heritage Foundation.
Ideas that boost market competition within Medicare might get a better response, she added.
@ 2012 Thomson Reuters. All rights reserved.