Benefits Of Age: Suicide Attempts 6 Times More Likely In Young Bisexual And Gay Men Than Older Men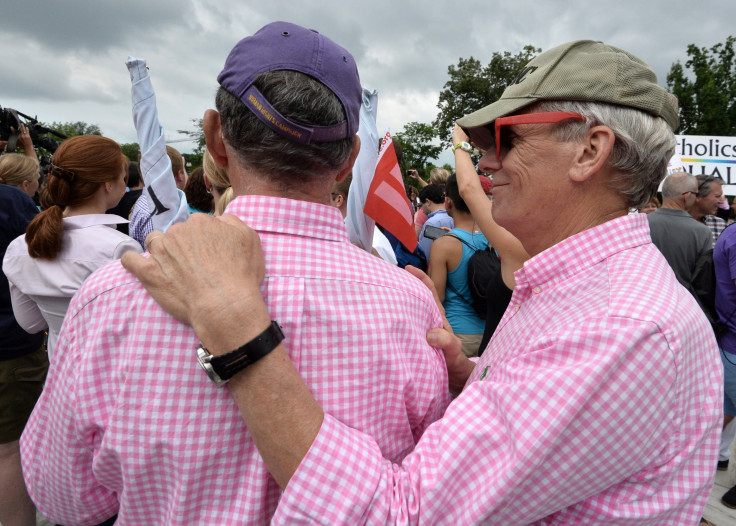 People within sexual minority groups are more likely to face poor mental health when compared to the straight majority. Yet, minorities of any type are often incorrectly believed to be more homogeneous than they actually are, and some men within the LGBTQ spectrum could have a greater vulnerability to mental illness than others.
A new London School of Hygiene & Tropical Medicine study suggests age may be one dividing line within the gay and bisexual community. Young gay and bisexual men have significantly higher odds of poor mental health than older men in the same group, the researchers discovered. In fact, gay and bisexual men under the age of 26 were six times more likely to attempt suicide or self-harm than those over 45. Younger men were also twice as likely to experience depression or anxiety than their older peers.
"Poor mental health is a common source of human misery," wrote the authors, adding that the World Health Organization's definition of health includes mental well-being as a central component.
However, mental health is a complex concept with both personal and social dimensions; for this reason, being part of a particular group may also increase the risk of either poor or positive mental health. For example, the 2007 UK Adult Psychiatric Morbidity Survey found much higher prevalence of depression, anxiety, and suicide attempts among the non-heterosexual minority.
For the current study, researchers led by Dr. Ford Hickson explored mental health differences within sexual minorities. Using data from the Stonewall Gay and Bisexual Men's Health Survey, the researchers analyzed the responses of 5,799 gay and bisexual men aged 16 and older who lived in the United Kingdom.
Age, ethnicity, income, and education were all found to have a large impact on experiences of depression, anxiety, attempted suicide, and self-harm.
Black gay and bisexual men were twice as likely to be depressed and five times more likely to have attempted suicide than the white majority. Lower income men were also more likely to be depressed and anxious, and attempt suicide or self-harm. Education also exerted an influence, with less-educated men twice as likely to experience these same mental illness features.
Specifically, 90 out of 1,521 men (just under 6 percent) under 26 years old reported a suicide attempt compared to 12 out of 1,244 (1 percent) men over 45 years old.
Compared to less than 2 percent of the 45-and-older crowd, nearly 14 percent of men under 26 years old reported a self-harm incident. Meanwhile, symptoms of depression affected about 29 percent of those 26 years old or younger compared to less than 15 percent of the older group.
Similarly, 31 percent of black men fulfilled the criteria for depression and 10 percent had attempted suicide in the last year compared to a respective 21 percent and 3 percent of white men.
Finally, 30 percent of men who left school early suffered depression, 23 percent suffered anxiety, 6 percent had attempted suicide, and 1.4 percent carried out self-harm compared to 17 percent, 14 percent, 2 percent and 4 percent, respectively, of men with a university education.
On a positive note, living with a partner increased a man's odds of better mental health. Specifically, the researchers discovered cohabiting men were 50 percent less likely to suffer from depression compared to men living in solitude.
Source: Hickson F, Davey C, Reid D, Weatherburn P, Bourne A. Mental health inequalities among gay and bisexual men in England, Scotland and Wales: a large community-based cross-sectional survey. Journal of Public Health. 2016.
Published by Medicaldaily.com