Pain In The Ass: Chinese Man Has Laxative Pill Bottle Stuck In Anus After Seeking Constipation Relief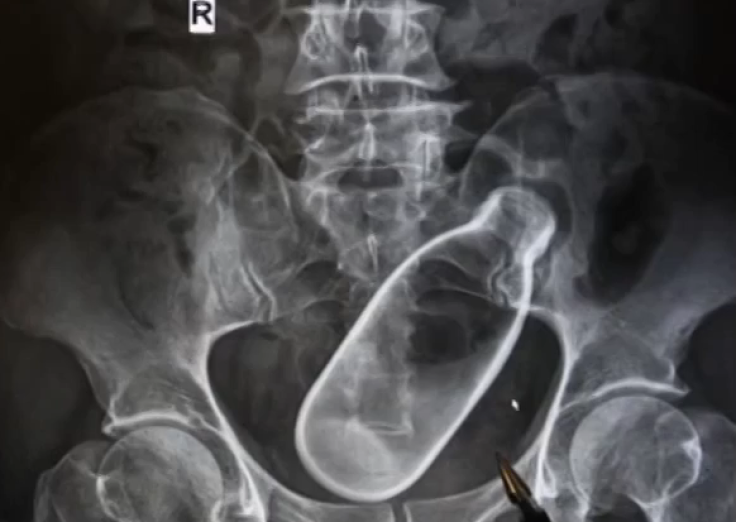 When you have to go, you have to go, but a man in China wasn't so lucky. Desperate for relief, he did whatever it took to use the bathroom. While most of us turn to over-the-counter laxatives for constipation, a 60-year-old man in Zhuhai in Guangdong Province, China, shoved a laxative pill bottle up his anus as a stimulant to get rid of his irritable bowel movements. Not surprisingly, the man went to the emergency room after the bottle was fully lodged inside his anus and unable to be rendered out.
The patient, who has not been named, claimed he was suffering from severe constipation when he tried to stimulate himself with the bottle in 2011, The Mirror reported. The X-rays showing the lower half of the elderly hospital patient were recently released by the hospital as the man's identity was removed from the records. These shocking images went viral after being shared by colleagues at the hospital.
Any object that is inserted or present in the rectum or anus should be removed to prevent serious complications. Fruits and vegetables, bottles, candies, and other objects designed to be placed in the anus such as vibrators or dildos, are commonly found in the rectum of patients in the ER. Unlike the hospital patient, the majority of people with an object in their rectum may have no signs or symptoms, says Medscape. However, patients who delay seeking medical attention are susceptible to experience abdominal pain, nausea and vomiting, fever, and rectal bleeding.
In a similar incident earlier this year, a man in China from Fuzhou, Fujian Province, admitted to having stuck a bottle up his anus after he went to complain about stomach pains at the hospital. The X-ray photos show the bottle lodged in the man's abdomen, along with a curved piece of wire he used to try and fish the foreign object out, The Huffington Post reported. It seems the bottle has gone to the man's large intestine. Dr. Andre Fedida, a gastroenterologist told HuffPo: "The wire is of no use. It would only cause damage, maybe even perforate the colon."
Remember folks, don't try this at home.
Published by Medicaldaily.com