STD Pop Quiz: New Test Could Predict Sexually Transmitted Disease Risk In Women, But Not Men For Some Reason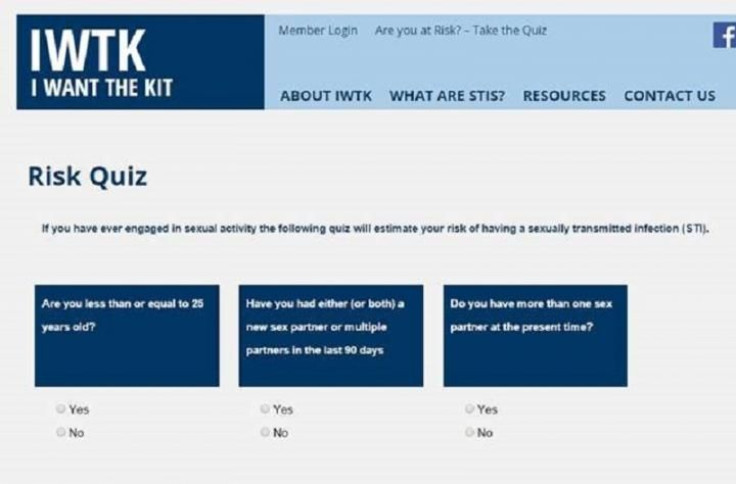 The rise of dating apps such as Tinder and Grindr has coincided with an increase in sexually transmitted disease (STD) rates. If apps contributed to an increase in STD rates, then maybe they can help reduce them as well. Researchers from Johns Hopkins University have developed a self-administered "pop quiz" that can accurately predict which young women are at risk for an STD, but the test isn't so accurate for young men.
"We test a lot of people who are not infected, and although a tool like this might not predict every single case, we think it can be helpful in rapidly predicting the likelihood of an STI for physicians and patients," said Charlotte Gaydos, a professor of medicine in the Division of Infectious Diseases at the Johns Hopkins University School of Medicine, in a statement.
Gaydos and her colleagues developed this pop quiz back in 2009 as a supplement to their home STD test kit campaign, I Want The Kit, which was designed to answer any questions teens and young adults may have without giving up their privacy. With help from adolescent sexual healthcare specialists and previous studies, the research team was able to come up with six questions that evaluate behaviors tied to STD risk. Questions included number of sex partners, condom use frequency, age, and past infection status.
To examine its effectiveness, researchers recruited 3,200 people from the Maryland and D.C. areas ages 14 and older. All participants had previously visited the kit website and were asked to take a mailed or online risk quizzes in addition to free at-home testing kits. Quizzes were graded on a zero to 10-point scale. Among all those invited, 830 females and 550 males between the ages of 20 and 24 ended up completing the quiz.
Since women tend to have higher rates for STDs compared to men, each gender was categorized differently by what grade they received. Respondents were considered high risk if they scored eight to 10 points for women and seven to 10 points for men, medium risk if they scored five to seven for women and three to six for men, and low risk if they scored zero to four for women and zero to two for men.
Each respondent was also mailed an at-home testing kit that was used to determine the presence of chlamydia, gonorrhea, and trichomonas. These three infections were chosen because they are easily detected and treated. In the end, 117 women and 39 men were diagnosed with one of the three infections. Findings revealed that women had a higher rate of STDs at 14 percent compared to seven percent among men. Women with a high or medium risk were four or two times more likely to contract an STD compared to women who scored a low risk. The quiz did not accurately predict the risk in men.
"We are not quite sure why this is, but untruthfulness or the fact that men tend to have lower rates of STIs are possibilities," Gaydos added.
The "I Want The Kit" campaign was launched back in 2004; since then, more than 6,500 women and 3,500 men have been self-screened in Maryland and Washington, D.C. The Centers for Disease Control and Prevention and pretty much every other health agency recommend that women under the age of 25 get tested at least once a year. Gaydos expects that a mobile-friendly version for smartphones will be available as soon as they can accommodate frequent users.
If you want to try Johns Hopkins' "pop quiz," click here.
Source: Hsieh Y, Barnes P, Dize L, Barnes M, Jett-Goheen M, Gaydos C. Use of a risk quiz to predict infection for sexually transmitted infections: a retrospective analysis of acceptability and positivity. Sexually Transmitted Infections. 2016.
Published by Medicaldaily.com