Popular Nap Nanny Recliners Recalled After Five Baby Deaths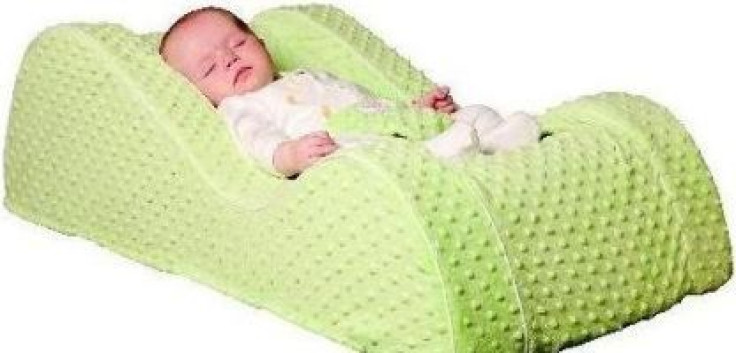 A popular baby recliner is being recalled after reports linking it to five infant deaths.
Major U.S. retailers like Amazon.com, Buy Buy Baby, Diapers.com and Toys R Us/Babies R Us have agreed to recall more than 150,000 of the Nap Nanny baby recliners amid reports of at least five infant fatalities and 92 reports of infants hanging or nearly falling out of the recliners, the Consumer Product Safety Commission (CPSC) announced Thursday.
The latest recall applies to Nap Nanny Generations One and Two, as well as the Chill model infant recliners that were sold between 2009 and 2012.
The Nap Nanny recliners are designed to imitate the shape of a baby car seat. It supposed to slightly raise an infant to help reduce reflux, gas, stuffiness or other problems.
The commission warned parents that the Nap Nanny recliner has faults in its design, warning and instructions. In its complaint against the recliner's manufacturer Baby Matters this month, the CPSC said that recliners made by the Pennsylvania-based company put babies at serious risk of injury and even death.
The government agency said in a statement that retailers voluntarily agreed to participate in the recall because the Baby Matters LLC is unable or unwilling to participate.
The company had told Associated Press that it had gone out of business. Apparently, reports say that at the time, there was a statement on the manufacture's website saying that they did not believe the CPSC complaint had merit and that its products posed no harm when used as instructed.
The owner and founder of Nap Nanny, Leslie Gudel said in the statement that the CPSC had filed an administrative complaint seeking to ban the sale of all Nap Nanny recliners "on the theory that the Nap Nanny is a hazardous product. We do not believe the complaint has merit and stand behind the safety of our product when used as instructed," according to CNN Money.
According to CNN, the recent Nap Nanny recall is the most prominent recall of an infant-related product since August, which 4 million Bumbo Baby seats were recalled. The seats were recalled after reports of 19 of the 50 babies who fell out of the seats suffered skull fractures.
Meanwhile, Nap Nanny's manufacturers are still claiming that their product is safe, according to a statement that was on the company website on Thursday.
"The loss of an infant is an unthinkable tragedy, and I am truly heartbroken for the families who have lost a child," the company said in the statement. "But the fact that infants have died 'while using' the Nap Nanny improperly, such as when used in a crib where the child could suffocate on a crib bumper or a blanket, does not mean our product caused the child's death or is hazardous."
Published by Medicaldaily.com