Rio Olympics Gymnast Who Broke Leg Update: What Happened To French Vaulter?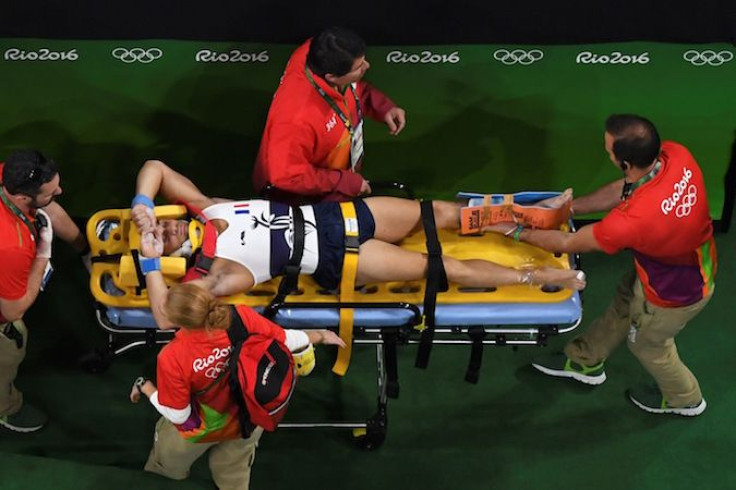 On Saturday, the first day of the 2016 Summer Olympics in Rio, French gymnast Samir Aït Saïd broke his left leg as he attempted a vault landing. The gruesome injury occurred during the men's qualification rounds and the graphic video of it later went viral.
Aït Saïd shattered his left tibia and fibula while attempting to land his vault; the injury resulted in a sharp crack that was heard throughout the arena, and left spectators worrying about his health, but the gymnast underwent surgery quickly after the incident, and says he feels positive about his prospects and future.
"The operation went very well, I should be back on my feet in a short time. I will go back to the training camp to encourage my friends because the competition is not over," he told The Daily Mail.
Earlier this week, the French Olympic team posted a video of Aït Saïd getting around on crutches. Less than five days after shattering his leg, the gymnast visited France House and moved with ease while smiling and chatting with other French athletes and media members.
Obviously the injury was painful, and Aït Saïd has a long road of rehabilitation ahead. When people break their tibia and fibula, medications are often prescribed for short-term pain relief after surgery or an injury, and reducing pain can also speed up recovery.
Some tibial shaft fractures heal within 4 months, yet many that require surgery may take 6 months or longer to heal, according to OrthoInfo. Physical therapy will be required to regain muscle strength in the injured area. Throughout the healing process and after cast removal are both important parts of the physical therapy process.
Additionally, athletes who sustain a major injury typically experience a strong psychological reaction, however, following the incident, Aït Said immediately said that he would be fine and planned to continue working towards competing in the 2020 Olympics in Tokyo.
"The adventure of Tokyo 2020 is still possible," he said earlier this week, according to USA Today. "As soon as I'm back on my feet I'll be back in training and searching for that Olympic gold."
How realistic is his insistence to return to the Olympic games?
Well, the gymnast has already experienced intense recovery. The 26-year-old athlete had previously been sidelined by a broken right tibia — incurred during another vault landing at the European championships — just prior to the 2012 Summer Olympics. If he can come back once, he can come back again.
Read More:
Rio Olympics Weightlifter Breaks Arm: Armenia's Andranik Karapetyan Suffers Horrific Injury Lifting 429 Pounds
Published by Medicaldaily.com