Rio Olympics How Fast Is Usain Bolt? World-Record Sprinter And The Science Of Speed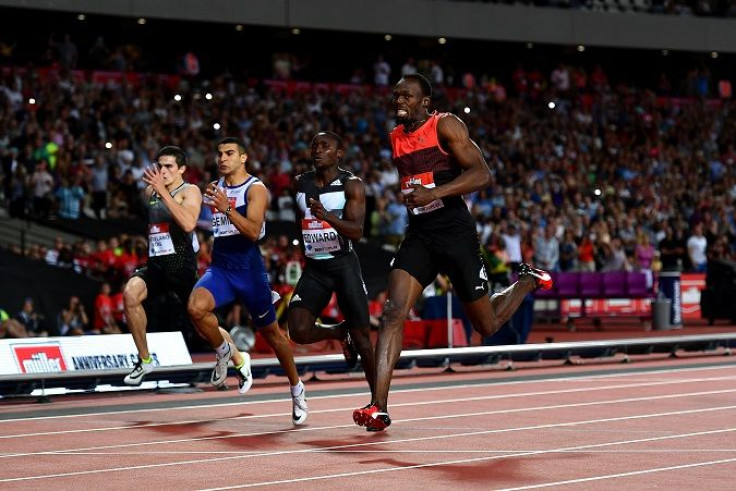 Usain Bolt, the world's fastest sprinter, is ready to hit the track in Rio on Saturday to compete in his first event of the 2016 Summer Olympics. The Jamaica native is set to run in the 100m, and then defend his titles in the 200m and 4x100m relay events on Sunday. Bolt currently holds the world record in all three events, and he won gold in them at Beijing 2008 and London 2012.
"I'm going to win the 100m," Bolt told CNN this week about his upcoming performance in Brazil. "I never try to predict times, I avoid that because you never know. I'll win all three gold [medals], there's never anything else for me when it comes to a championship."
Bolt's record for the 100m dash stands at 9.45 seconds.
How does the most decorated sprinter of all time gain such impressive speeds? One might guess that Bolt moves his legs faster than everyone else, but the difference is that he actually takes longer and more powerful strides. In a 100m race, he typically takes about 41 steps, which is three or four fewer than his rivals.
"Bolt is a genetic freak because being 6ft 5ins tall means he shouldn't be able to accelerate at the speed he does given the length of his legs," former Great Britain sprinter Craig Pickering told BBC. "At the beginning of a race you want to take short steps in order to accelerate, but because he's so tall he can't do that. But then when he reaches top speed he has a massive advantage over everyone else because he's taking far fewer steps."
The fastest sprinters seem to spend about 60 percent of the time in the air, with no foot in contact with the ground, according to Dr. Sam Allen of Loughborough University. Meanwhile, for amateur athletes it's closer to 50 percent.
What else does it take to be the fastest in the world? According to Allen, "the best sprinters will always benefit from having a huge amount of natural ability.
Read more:
Rio Olympics Weightlifter Breaks Arm: Armenia's Andranik Karapetyan Suffers Horrific Injury Lifting 429 Pounds
Rio Olympics Gymnast Who Broke Leg Update: What Happened To French Vaulter?
Published by Medicaldaily.com