Safe Sex: 'Next Generation' Latex Condom May Lead To Better Sex By Delivering Viagra, Electrical Stimulation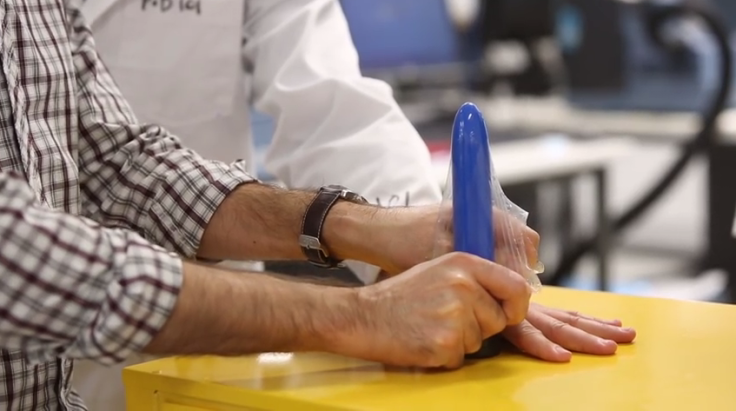 A hydrogel condom that feels like human skin, lowers the risk of unplanned pregnancies and sexually transmitted diseases (STDs), and delivers Viagra could make safe sex possibly the best sex ever.
Developed by a research team from the University of Wollongong's Intelligent Polymer Research Institute, the "Next Generation" condom may replace the latex condom and even offer more protection due to its soft, squishy skin-like material. Hydrogels — found in contact lenses, toothpaste, and shower gels — consist mainly of water held together by long molecular chains known as polymers. Hydrogel condom co-creator Dr. Robert Gorkin, biomedical engineer at the university, says unlike the latex condom, the hydrogel condom doesn't feel like a rubber glove, and it can actually enhance safe sex.
"We can re-imagine what a condom may be like by just changing the material, and hopefully we can make sex better," said Gorkin, ABC Illawarra reported.
The condom material makes it a sexual health breakthrough: The clear, soft plastic feels almost invisible to the touch, but it can withstand the strength and permeability of commercial latex condoms. Gorkin hopes that durability and comfort will change people's outlook on safe sex, so the team is in the process of embedding anti-HIV drugs into the condom material as well.
The team also plans to add chemicals to the material that enhance sexual pleasure. This is more feasible with a hydrogel condom because it would have the ability to contain agents within the material which are then released with sexual activity. With latex, on the other hand, lubricant only coats the outside. To remedy the issue, researchers are experimenting with hydrogel materials to create a condom that can self-lubricate and deliver a small dose of Viagra for the wearer. The gels can also be tailored to conduct electricity, inducing electrical stimulations during sex, according to a University of Wollongong press release.
There are several reservations about the new condom, however. A self-lubricating condom may not make a great difference, since condoms are already lubricated. Also, since it typically takes half an hour for Viagra to work, it seems unnecessary, since its primary use is to help men achieve an erection.
Gorkin and his colleagues' overall goal is to develop a condom that feels good and actually promotes condom use during sex. The cost of it is estimated to be similar to the price of regular latex condoms. "We don't think the cost will be too much more in the long run, but it will take time," Gorkin said.
Last year, his team was awarded one of 52 worldwide grants from the Bill and Melinda Gates Foundation to develop their Next Generation condom. Currently, they're seeking support for another grant through Thinkable, which would contribute almost $15,000 to their project.
This condom is just one of many being developed for the Next Generation Condom challenge. Michele Chu, a student at the Pratt Institute in New York City has developed the innovative contraceptive idea of a spray-on condom. Dubbed "Girlplay," the condom is sprayed directly onto the penis or vagina, and men must wait a total of two minutes before having sex. Chu compares the effects to a spray-on bandage. One downfall: Users may not want to wait a total of two minutes for the condom to dry.
Overall, the main concern of these projects is safety. Launching a tough hydrogel condom that is similar to a latex condom in terms of its durability can encourage further condom use and prevent widespread sexual diseases.
So, it could very well be the rubber of the future.
Published by Medicaldaily.com