Saturated Fat Is Not Making A Comeback; How To Reduce Your Risk Of Coronary Heart Disease With Food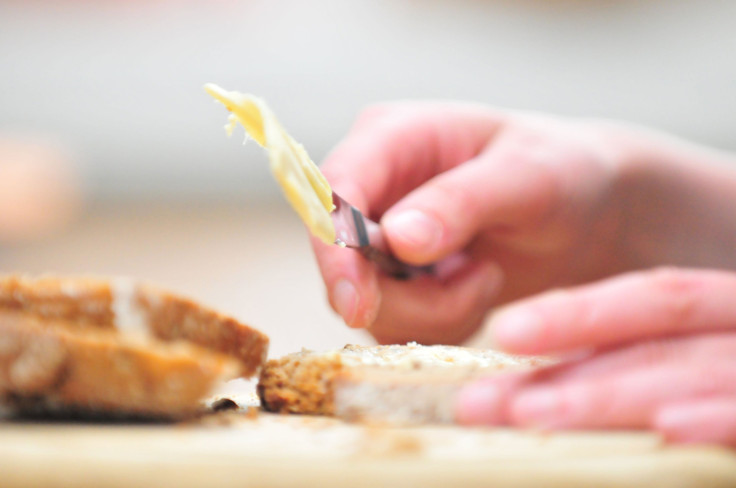 Butter is still the bad guy, according to the newest research. A 30-year study conducted by nutrition researchers at Harvard School of Public Health investigated thousands of consumers' diets, which revealed changes a person can make when cooking. The findings, published in the Journal of the American College of Cardiology, provide quick swaps a person can make in their diet to improve their heart's health for the long term.
"Many physicians could benefit from more in-depth nutritional knowledge to help them counsel their patients on changing their dietary practices in a way that will impact their health," said the study's senior author Frank Hu, a nutrition professor at Harvard School of Public Health, in a press release. "We found that when study participants consumed less saturated fats, they were replacing them with low-quality carbohydrates such as refined grains that are not beneficial to preventing heart disease."
For 24 to 30 years, Hu and his team of researchers examined the diet, lifestyle, and medical history of 84,628 women and 42,908 men. At the start of the experiment, participants had no history of diabetes, heart disease, or cancer, and were followed up every two to four years. By the end of the study, 7,667 incidents of coronary heart disease (CHD) were reported.
Researchers found that when participants ate fewer saturated fatty acids, they replaced with low-quality carbohydrates like white breads or potatoes. But when they did the opposite, and removed saturated fats from their diet and replaced it with healthier fats and good carbohydrates, they saw a drop in their risk for heart disease. For every five calories of saturated fats replaced with polyunsaturated fats, monosaturated fats, and whole grains, participants saw a 25 percent, 15 percent, and nine percent lower risk of heart disease respectively.
Saturated fats typically turn solid at room temperate and occur naturally in many foods like fatty beef, lamb, pork, lard, cream, butter, cheese, and two percent milk. The American Heart Association says as a general rule, when consumers cut back on red meat and dairy products, researchers recommend replacing them with foods that contain healthy fats like salmon, nuts, seeds plant oils, and avocados. Meanwhile, they should avoid foods that are high in refined carbohydrates like white bread and French fries.
Cooking with healthy fats like canola oil, olive oil, or other vegetable oils instead of butter, lard, or margarine could result in a reduced risk. Removing potato chips and cookies from the diet and replacing them with peanuts, almonds, and olives is another way to improve an individual's risk of heart disease, according to the researchers.
"Our findings suggest that the low-fat, high-carb trends of the 1980s and 1990s are not effective in reducing risk of CHD," said the study's co-author Yanping Li, a researcher in the Department of Nutrition, in a press release. "It means that individuals should not replace saturated fat with refined carbs or vice versa. Dietary recommendations to reduce saturated fats should specify their replacement with unsaturated fats or with healthy carbohydrates, such as whole grains."
Source: Hu FB, Hruby A, Li Y, et al. Saturated fat as compared to unsaturated fats and sources of carbohydrates in relation to risk of coronary heart disease: A prospective cohort study . Journal of the American College of Cardiology. 2015.
Published by Medicaldaily.com