Second Texas healthcare worker tests positive for Ebola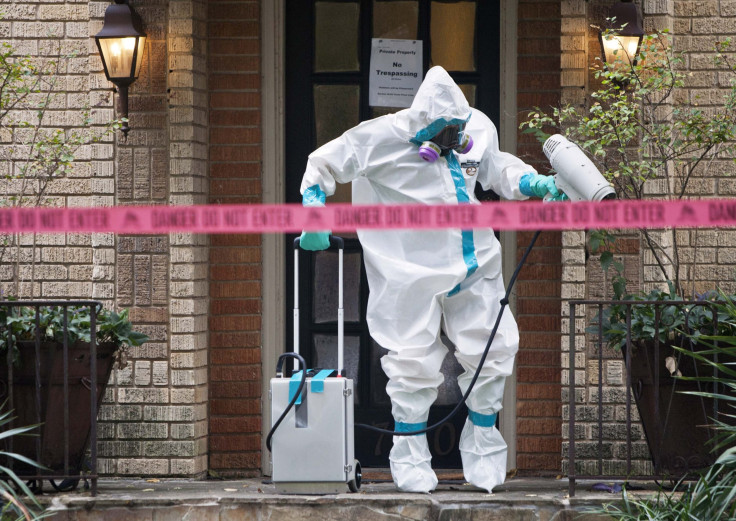 DALLAS (Reuters) - A second Texas healthcare worker who treated the first patient to be diagnosed with Ebola in the United States has tested positive for the disease, the Texas Department of State Health Services said on Wednesday.
At least 4,447 people have died in West Africa in the worst Ebola outbreak on record, but cases in the United States and Europe have been limited. The virus can cause fever, bleeding, vomiting and diarrhea, and spreads through contact with bodily fluids.
In Dallas, the worker at Texas Health Presbyterian Hospital, who cared for Ebola victim Thomas Eric Duncan, was immediately isolated after reporting a fever on Tuesday, the state health department said.
"Health officials have interviewed the latest patient to quickly identify any contacts or potential exposures, and those people will be monitored," it said in a statement.
Dallas Mayor Mike Rawlings said at an early morning news conference on Wednesday the second infected nurse lived alone and had no pets. He said local health officials moved quickly to clean affected areas involving the second nurse and to alert her neighbors and friends.
Texas Health Presbyterian Hospital is doing everything it can to contain the virus, said Dr. Daniel Varga of Texas Health Resources, which owns the hospital.
"I don't think we have a systematic institutional problem," he said.
At the same news conference, Dallas County Judge Clay Jenkins, the county's chief political officer, said authorities are anticipating additional possible Ebola cases.
"We are preparing contingencies for more, and that is a very real possibility," Jenkins said.
Another nurse, 26-year-old Nina Pham, was the first person to have been infected by Ebola in the United States, and was diagnosed this weekend. She had cared for Duncan during much of his 11 days in hospital. He died in an isolation ward on Oct. 8.
The hospital said on Tuesday that Pham was "in good condition".
The U.S. Centers for Disease Control and Prevention said in a statement that it was performing confirmation testing of Texas' preliminary tests on the new patient.
CDC Director Dr. Thomas Frieden said on Tuesday the agency was establishing a rapid-response team to help hospitals "hands on, within hours" whenever there is a confirmed case of Ebola.
Frieden has come under pressure over the response and preparedness for Ebola, but White House spokesman Josh Earnest said U.S. President Barack Obama is confident of Frieden's ability to lead the public health effort.
REINFORCING STAFF
Health and Human Services Secretary Sylvia Burwell, in a series of television interviews on Wednesday, said officials are adding staff to ensure that the hospital in Dallas follows proper procedures to prevent transmission of the virus.
Burwell said there will be round-the-clock site managers who will oversee how health care workers take on and off the protective gear used when treating Ebola patients.
In addition to extra CDC staff on site, two nurses from Emory University, which has a specialized hospital that has treated other Ebola patients flown in from West Africa, are now in Dallas to train staff. U.S. health officials are working with local clinicians to make sure the patients are getting the best care possible and that healthcare workers are protected, Burwell said.
"We will continue to monitor the situation, and our people are on staff on site doing that right now," she told NBC's "Today" show.
Dr. Anthony Fauci, director of the National Institute of Allergy and Infectious Diseases, said on MSNBC on Wednesday that regardless of the reason, something went awry in the treatment of Duncan.
"It is not acceptable that two nurses taking care of a person because of their exposure there were infected. That should not have happened," he said.
President Obama is due to hold a video conference on Wednesday with British, French, German and Italian leaders to discuss Ebola and other international issues, the White House said. Prospects for a quick end to the contagion fell as the World Health Organization predicted that Liberia, Sierra Leone and Guinea, the three worst-hit countries, could produce as many as 10,000 new cases a week by early December.
By Terry Wade
(Additional reporting by Jonathan Kaminsky, Susan Heavey and Doina Chiacu; Writing by Curtis Skinner; Editing by Mohammad Zargham and Doina Chiacu)
Published by Medicaldaily.com