Seniors Are Using Chat Rooms And Forums To Talk Openly About The Highs And Lows Of Sex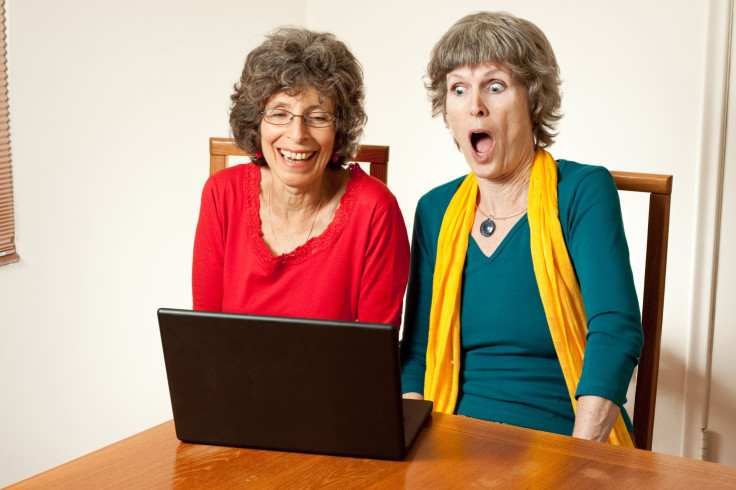 Proving that some subjects don't have an age limit, the authors of a study published today in the Journal of Leisure Research found that seniors are flocking to the internet through forums and chat rooms in order to talk about sex. And it's allowing them to have the sort of healthy, educational, and fun conservations they might have never been able to have before.
Far from the common perception of the elderly as rabid technophobes, the authors explain that this subset of the population has steadily begun to frequent forums tailor-made for them, crafting together their very own online communities. Noting that there's been embarrassingly little research into the sex lives of older adults, the researchers decided to explore just how these seniors are talking about sex. They searched for all the sex-related posts they could find in one full year from 14 different English-language forums across four different countries, including seven from the United States (My personal favorite forum? Cool Grandma).
While these posts (2,534) only encompassed a small portion of the total input generated by the 79,665 people in their dataset, sex was an often popular topic, with some threads having over thousands of views. And though there were certainly those who objected to the very idea of talking about sex publicly, the conservations that occurred in these threads were usually equal parts enlightening and hilarious.
"Despite (or maybe because of) the debate regarding the legitimacy of the online sex-related discussions, one of their main characteristics was frequent commenting about the discussions' role as a sphere for consultation and intellectual dialogue," the authors wrote. "Defending the educational potential of the online discussions, some post authors emphasized their lack of exposure to sexual education earlier in their lives due to the sociocultural and historical circumstances in which they grew up."
For some, sex was something they were never allowed to ask about; for others, it was a subject they now felt shame in bringing up, due to the pervasive belief, even among medical professionals, that sex should somehow stop mattering to someone past a certain age. Free of those stereotypes, seniors were able to swap tips about the best time to have sex, educate themselves about the still-real risks of sexually transmitted infections, and share the sort of stories that would make a college dorm blush.
And perhaps more importantly, these conservations mattered in the offline world too. "Thanks to this forum I came to realization that there is nothing wrong in seeking sexual fulfillment at older age," one such poster remarked. Another wrote, "My goodness, sex is exactly what most seniors want and deserve. If there is no partner, why not instant gratification in the form of the great toys that are available? Because we are old, we are NOT dead!!"
Though the authors acknowledged that the makeup of the forum posters they studied is slightly younger and wealthier than the average senior citizen, they feel that their findings highlight the oft-ignored fact that the very human desire for physical intimacy doesn't and shouldn't need to fade away with time.
Source: Berdychevsky L, Nimrod G. "Let's Talk about Sex": Discussions in Seniors' Online Communities. Journal of Leisure Research. 2015
Published by Medicaldaily.com