Sexual Assault On Campus: Freshmen Who Are Raped While Incapacited Likely Have History Of Victimization, Alcohol Use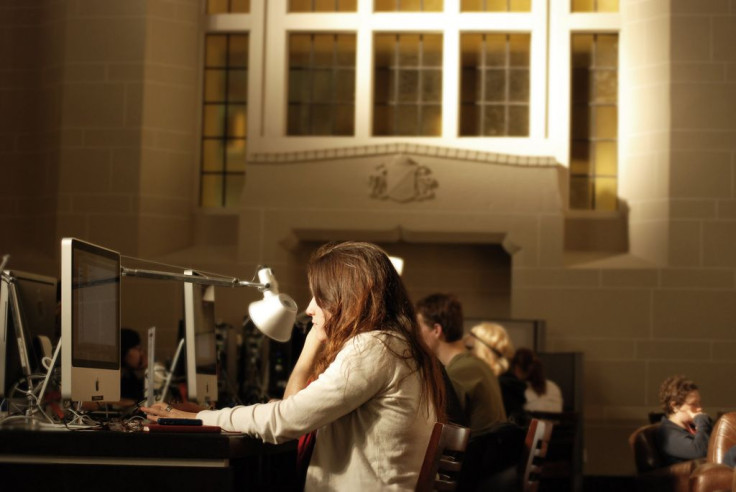 Earlier this year Dr. Kate Carey, a professor of behavioral and social sciences at Brown University School of Public Health, published her study that found one-third of first-year college women experienced rape by the time they were sophomores. Now Carey has published more details from that study, suggesting incapacitated rape (IR) is especially prevalent among women starting their freshman year.
"Although comprehensive sexual assault prevention must address the behavior of perpetrators and engage peer bystanders in actively changing campus norms, continued development of prevention programs for women is also needed," Carey and her team wrote. "Therefore, to optimize the efficacy of early prevention programming for college students, it is essential to determine if precollege factors that increase the risk of experiencing IR can be identified." Prior research has identified prior sexual victimization, alcohol use, marijuana use, number of sexual partners, and positive alcohol expectancies (for enhancement) as potential predictors.
For the purpose of this study, IR was defined "as any of the four penetrative acts — oral sex, attempted intercourse, complete intercourse, or anal sex — that occurred because of the perpetrator tactic of victim incapacitation" due to alcohol use or other drugs.
Study participants were 483 women in their first year of college at a private university in the Northeast, where they were already participating in a larger study of health behaviors and relationships specific to first-year women, called the Women's Health Project. At baseline (and every four months throughout the study year), participants took a survey measuring four perpetrator tactics with five types of sexual contact, and asked participants to report the number of times each type of event had occurred since women turned 14. The tactics included using physical force and "performing sexual acts while you were incapacitated by drugs or alcohol and unable to object or consent," while types of sexual contact included fondling, kissing, and penetration with a finger or objects.
Students reported at baseline, too, the number of heavy drinking episodes they had engaged in during the previous month, since heavy episodic drinking "appears to be the most relevant risk factor for IR among college students," as well as any marijuana use and the number of romantic and casual partners with whom they had vaginal sex in their lifetime.
If participants reported at least one oral or vaginal sex partner, researchers further assessed their sex-related alcohol expectancies. The latter refers to enhancement, sexual risk taking, and disinhibition.
Overall, 17.5 percent of participants reported experiencing IR since age 14, and over the course of that first year, 15.4 percent reported IR. But by the end of the study year, 25.7 percent had experienced lifetime IR — precollege history of IR was strongly associated with all of the aforementioned potential predictors of first-year college IR.
Researchers wrote women entering college with a history of IR drank more heavily, smoked more marijuana, and had more sex partners than did women with no history of IR; drinking heavily the month before starting college more than doubled a woman's risk for IR. This was followed by having history of IR, which researchers speculated may be because individuals previously assaulted "may continue to have more sexual partners or engage in other risky behavior such as hookups or heavy drinking."
More importantly, those who experienced IR before college held stronger expectancies for alcohol to enhance sexual pleasure and disinhibition than those who had no prior history. Independent of IR history, it was these expectancies rather than heavy drinking that ultimately increased women's risk for IR.
"Event-level studies of college drinkers establish that more drinking on a given day is associated with increased chances of sexual activity, and that this association is augmented when an individual holds stronger alcohol-sex expectations," researchers said. "[These] predict both engaging in casual sex (outside of a committed relationship) and alcohol-involved rape, each mediated through drinking alcohol before sex."
Researchers acknowledged women arrive on campus already with multiple risk factors in place, making it hard to disentangle these relationships, but seeing that "expectancies of sexual enhancement prospectively predicts the likelihood of IR," could be a new target of sexual assault prevention.
"This study's focus on precollege predictors of IR should not be taken to imply that female students are responsible for being raped," researchers concluded. "However, until perpetration of sexual assault becomes universally unacceptable and rare, development and implementation of strategies under the direct control of potential victims will be needed to reduce women's risk."
Source: Carey KB, Durney SE, Shepardson, RL, & Carey MP. Precollege predictors of incapacitated rape among female students in their first year of college. Journal of Studies on Alcohol and Drugs. 2015.
Published by Medicaldaily.com