Staying Fit During Pregnancy: Mom With Six-Pack Abs Shows Off Toned Stomach At End Of Second Trimester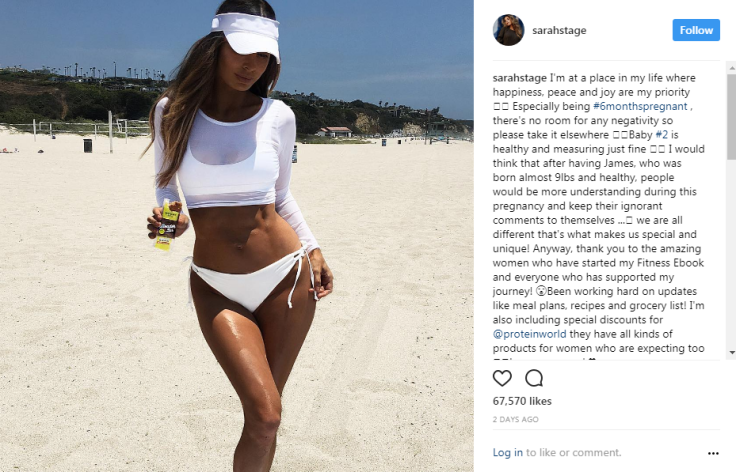 While many strive to have a fit and toned stomach, a chiseled six-pack is only achieved by very few. The dedication it takes to maintain a tight core is not easy, especially during pregnancy. But, one Instagram fitness model has managed to maintain a barely-there baby bump six months into her pregnancy.
Sarah Stage, a 33-year old social media star, flaunts her toned body on her Instagram account which has attracted more than two million followers. During her first pregnancy she was criticized for her figure, and now her recent posts have stirred more controversy among critics.
Read: Antidepressant Use In Pregnancy Isn't Linked To Health Problems In Babies, New Research Says​
"I'm at a place in my life where happiness, peace and joy are my priority. Especially being #6monthspregnant, there's no room for any negativity so please take it elsewhere," she captioned a recent photo of herself posing on the beach. "Baby #2 is healthy and measuring just fine. I would think that after having James, who was born almost 9lbs and healthy, people would be more understanding during this pregnancy and keep their ignorant comments to themselves … we are all different that's what makes us special and unique!"
In addition to body shamers, Stage's page is also filled with comments from those praising her fit-pregnancy figure. "Well I think it's absolutely amazing that your (sic) able to look this damn good at 6 months pregnant!" one user commented.
"I usually don't comment or bother to get involved but are people really bashing this woman for being skinny and in shape??" another user wrote. "I'm so confused, why is that such a bad thing?"
Read: Exercise Tips And Techniques For Working Out During Each Trimester Of Pregnancy, According To Experts
Curious how she maintains her figure? The fit mom says she does the same workouts during pregnancy that she did before she was carrying her child; however, she lowers the weights and intensity to be safe, according to her personal website. As her pregnancy progresses, she does fewer ab exercises. And to prevent stretch marks, she credits a body butter from the brand Belly and the Bean.
While her figure appears as toned during this pregnancy as it was during her first, she notes things are different this time around.
"I have a little bump, but this time I'm carrying a little bit differently," Stage told People. "The doctor says the baby is a lot lower. [This pregnancy] has been so different. Having a toddler and running after him, I'm definitely a lot more tired. But I'm not complaining, I'm so excited!"
Additionally, she mentions she got the OK from her trainer and doctor to workout, but with lower weight than usual. "I'm not going as aggressive as I normally do. I have to hold back, but that's okay," she said.
See also: Forget Exercise While Pregnant, This Woman Does Gymnastics At 35 Weeks Of Pregnancy
Even Strenuous Exercise During Pregnancy Is Safe: Health Benefits For Baby And Mother-To-Be
Published by Medicaldaily.com