Tips For Running In Cold Weather: The Best Clothes, Gear, And Techniques For Coping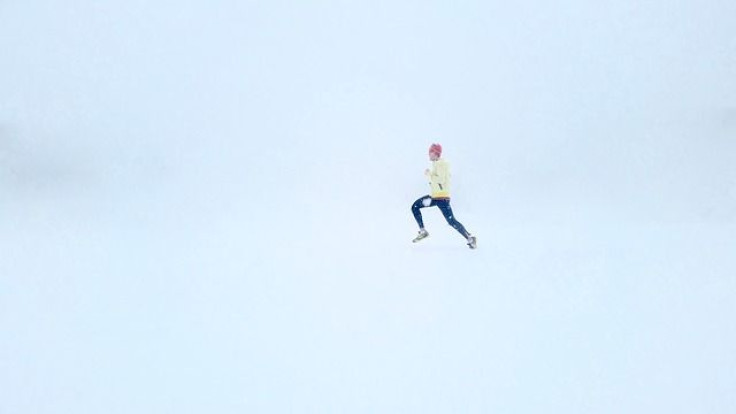 Winter weather brings cold temperatures, wind, snow, and ice. Devoted runners will face these elements to get in a few miles despite less-than-ideal conditions if they want to avoid the monotony of the treadmill.
If you want to keep running outside throughout the frigid winter, keep these tips in mind.
Read: Runny Nose And Cold Weather: Cold, Dry Air Leads Mucus Membrane To Secrete Mucus, Drip Water
CLOTHES TO WEAR
"If it is particularly cold, a runner will want to make sure there's as little exposed skin as possible," said sports medicine specialist Joshua Blomgren, according to a release from Rush University Medical Center.
Put on a hat and gloves, in addition to lots of layers. Try avoiding cotton and embrace synthetic materials, as well as modern wool. Additionally, short dark days call for reflective running gear.
Read: 6 Must-Have Tips To Awaken Your Skin For Daylight Saving Time And All Winter Long
GEAR TO BRING
Everyone is different, but hydration is key for any significant run.
"Even when it's cold, it's important to stay hydrated … So if you're running more than three miles, carry a water bottle with you," the release states.
Additionally, bring along a quick change of dry clothes for when you're done.
HOW TO COPE
Don't worry, your body will quickly warm up once you start running. For me personally, it takes about five to ten minutes to get comfortable in freezing temperatures.
How about the wind? You're inevitably going to have to face the chilly gusts at some point. Some runners prefer to face the wind for the first part of a run and save the more comfortable part for last, according to the release.
Despite your determination to brave the elements, don't push too hard, and be cautious if there's any ice on the ground; the dreaded treadmill is still better than a broken bone.
See Also:
Cold Weather Can Actually Cause Colds, Study Finds
Cold Weather May Increase Risk Of Hospitalization For Heart Failure And Atrial Fibrillation
Published by Medicaldaily.com