6 Must-Have Tips To Awaken Your Skin For Daylight Saving Time And All Winter Long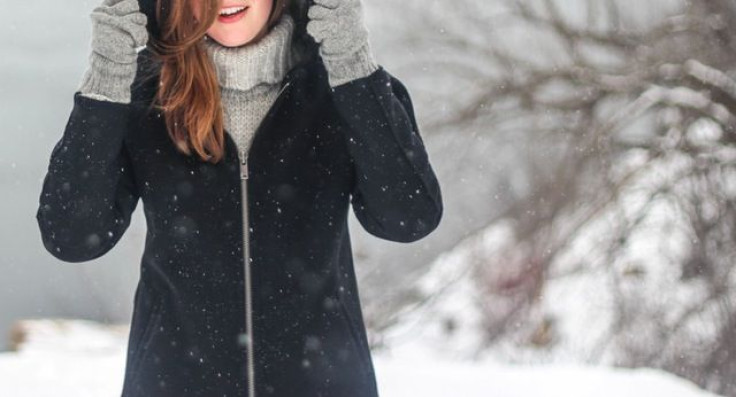 It's that time of year, again. The sun is setting early while the moon and stars appear longer in the crisp, dark sky. We're entering the sad, annual season where leaving the office always means stepping out into a nighttime chill.
This Sunday, Nov. 6, is Daylight Savings, and, at 2 a.m., all clocks across the country will go back one hour.
Dry skin is synonymous with cold, dark winter days. That nip in the air steals all the moisture from your skin — just like it takes away your motivation to venture outside. Avoiding parched skin can mean avoiding wrinkles down the road.
With winter looming, we've listed the must-have products and effective tips to keep your skin looking fresh and young until sweet summer sunshine returns.
1. KEEP YOUR LIPS PROTECTED FROM THE HARSH COLD
We suggest: Glossier 's Flavored Balm Dot Com $12
This line of skin salve from progressive New York-based beauty brand Glossier is a go-to for keeping lips moisturized. It comes in four flavors; we suggest the mint for the added bonus of guaranteed fresh-smelling breath.
2. HAVE A GO-TO FACE MOISTURIZER
We suggest: Dr. Jart+ Ceramidin Cream from Birchbox $48
If you haven't heard about the magic of Korean skincare, you're missing out. This jack-of-all-trades moisturizer is extremely light and effective. It even protects from UV exposure. (Hey, the sun can still be strong when it's cold).
3. EAT DARK CHOCOLATE
We suggest: This recipe for Dark Chocolate Espresso Pots De Crème
Studies have shown that flavonoids in dark chocolate absorb UV light. According to Reader's Digest, this helps protect skin, increase blood flow, as well as improve hydration and complexion. This tasty, cold weather treat has all of those benefits, and not to mention it's also rich and delicious.
4. EXPERIMENT WITH UNEXPECTED, ORGANIC INGREDIENTS … LIKE LILY BULBS
We suggest: Origins ' Three Part Harmony Foaming Cream-to-Oil Cleanser $39
This luxurious cleanser contains a unique active ingredient: the Tazetta Lily Bulb, or "Paperwhite Lily," which represents awakening and renewal, according to a press release. The product transforms from a creamy milk to a lavish oil and contains self-renewing properties that can be used to help reawaken skin's youthfulness.
5. DON'T JUST MOISTURE, ENSURE THAT YOUR SKIN RETAINS IT
We suggest: Apoterra 's Rose Nourishing Serum with Rosehip + CoQ10 $35
Astoria, Queens-based skincare brand Apoterra is a go-to any time of year. We love what rosehip oil does for our skin, and this serum takes it a step further. CoQ10, rose extract, and vitamin-rich oils — like rosehip, pomegranate, and evening primrose — nourish skin, prevent moisture loss and stimulate collagen to create a youthful glow.
6. HAVE A NATURAL GO-TO, USE ANYWHERE MOISTURIZER
We suggest: Trader Joe's Organic Virgin Coconut Oil $6.99 (or really any cold pressed and unrefined coconut oil)
We know, we know; you've heard it a million times. But really there's no excuse not to have a jar of this miracle product laying around before the bitter cold hits. Use it to ensure moisture on your hair, hands, feet, face, legs, elbows, etc. without worrying about chemical or unnatural products absorbing into your skin.
Read more:
Healthy Skin Awareness Month: 5 Ways To Save Your Skin From The Winter Blues
Winter Skin Care: Perfectil, Daily Pill, Clinically Proven To Reduce Fine Lines And Skin Roughness
Published by Medicaldaily.com