Told They're Giving Birth To A Big Baby, Pregnant Women More Likely To Elect C-Section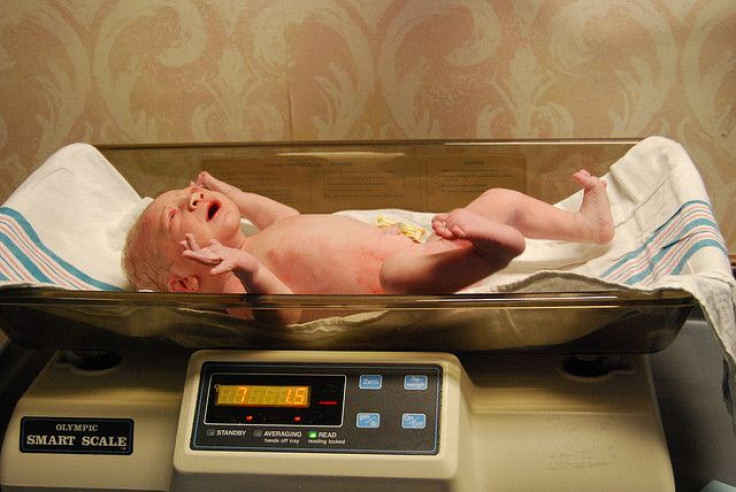 Sonogram screenings may be leading to unexpected, possibly unhealthy results for pregnant women and their babies. Nearly a third of expectant mothers reported being told they might deliver a big baby, a new study from Boston University School of Public Health and Medicine indicates, and this led to higher rates of induced labor and elective C-section deliveries among the group. However, only one in five of the pregnant women told their babies might be large actually delivered a baby weighing more than 8 pounds, 13 ounces, the definition of excessive birth weight (macrosomia is the official term).
Dr. Eugene Declercq, a professor of community health sciences, and his co-authors examined data from Listening to Mothers III, a national survey. Participants included 1,960 women without a prior C-section who had given birth between July 2011 and June 2012. Women answered a variety of questions, including this one: "Near the end of your pregnancy, did your maternity care provider tell you that your baby might be getting quite large?"
Misinformation
Just under a third (31.2 percent) of the women reported being told their babies might be getting "quite large." Yet only one in five of these women actually delivered a baby weighing more than the cutoff weight (8 pounds, 13 ounces). Overall, a total of 9.9 percent of the mothers taking part in the survey gave birth to high birth weight babies, including 5.5 percent of women who had not been warned.
In fact, the average birthweight of the suspected big babies was about 7 pounds, 11 ounces, which was just 10 ounces more than the average birthweight of babies not predicted to be overweight.
The impact of misinformation was profound, the researchers discovered. Women who thought their babies would be large were nearly five times more likely to request C-section delivery, twice as likely to try to self-induce labor, and twice as likely to have medical inductions as other women.
Reasons Why
Women may feel "uncertain, fearful, and anxious" about having to deliver a big baby and to avoid "anticipated trauma" they seek medical interventions, including not only inductions and C-sections but also pain meds. Concerns about induction include a study showing links to higher rates of autism, while cesarean deliveries have been associated with later life obesity and chronic poor health. Crisis-oriented and group-based therapies would help address their fears, suggests the team.
These results also underscore the challenge of determining fetal size prenatally, never an easy thing to do as many past studies have verified, say the researchers. Importantly, the basis for predicting a baby's birthweight was a late-pregnancy sonogram, with two-thirds of the mothers saying their health providers performed this test specifically to estimate fetal weight. According to the research team, this is "a notable increase" from 2005 when just half the pregnant women underwent a late-pregnancy sonogram to determine baby size.
Since routine sonogram screening is not recommended by the American Institute of Ultrasound in Medicine — the institute advises only targeted testing — the researchers suspect maternity health providers may be screening pregnancies without valid medical justification. In the United States, the likelihood of a large baby has been declining slightly over the past two decades.
Source: Cheng ER, Declercq ER, Belanoff C, Stotland NE, Iverson RE. Labor and Delivery Experiences of Mothers with Suspected Large Babies. Maternal and Child Health Journal. 2015.
Published by Medicaldaily.com