Trader Joe's Recall 2013: 90 Tons Of Pre-Packaged Chicken Salad And Ham Products Recalled By The USDA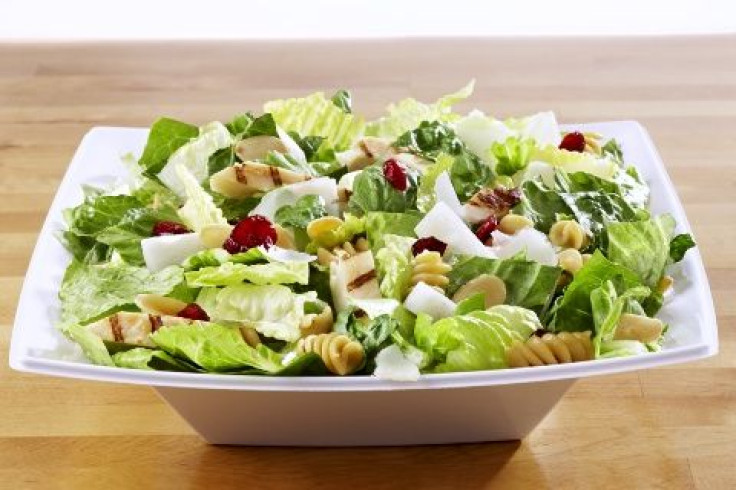 California-based Glass Onion Catering is recalling over 90 tons of pre-packaged sandwich wraps and salad products after several people from multiple states fell ill. The supplier for Trader Joe's said that around 181,620 lbs. of ready-to-eat products that were made with grilled chicken salad and ham may be contaminated with E. coli.
According to the U.S. Department of Agriculture's Food Safety and Inspection Service, "The products were produced between Sept. 23 and Nov. 6, 2013 and shipped to distribution centers intended for retail sale in Arizona, California, Nevada, New Mexico, Oregon, Texas, Utah, and Washington."
Twenty-six patients from three states have been reported for showing symptoms of E. coli O157:H7 with an illness onset ranging between Sept. 29, 2013 and Oct. 26, 2013. Of these patients, 15 admitted to consuming ready to eat pre-packaged sandwich wraps or salads traced back to Glass Onion Catering.
People infected with E. coli O157:H7 bacterium may start to experience symptoms including dehydration, bloody diarrhea and abdominal cramps within two to eight days after exposure. Left untreated, this infection can turn into potentially life-threatening kidney failure known as hemolytic uremic syndrome (HUS).
"We have been alerted by our supplier of the following salads, found only in the specified regions, that there is a possibility that these products, with "USE BY" dates of 10/01/13 through 11/15/13, may be contaminated with E. coli, an organism that can cause serious food-borne illness if consumed," read a statement issued by Trader Joe's.
Products contaminated with E. coli O157:H7:
• 12 oz. packages of Delish Pan Pacific Chop Salad
• 13.4 oz. packages of Delish California Style Grilled Chicken Salad
• 9.9 oz. packages of Selish Uncured Applewood Smoked Ham & Cheese Wrap
• 10.5 oz. packages of Delish Grilled Chicken Caesar Wrap
• 10.9 oz. packages of Delish Southwestern Chicken Wrap
• 11.5 oz. packages of Delish Greek Brand Low-Calorie Grilled Chicken Wrap
• 9.9 oz. packages of Delish White Chicken Club Wrap
• 11.2 oz. packages of Delish Asian Style Chicken Wrap
• 13.4 oz. packages of Atherstone Fine Foods Southwestern Style White Chicken Wrap with Chimichurri Sauce
• 10.5 oz. packages of Atherstone Fine Foods Asian Style White Chicken Wrap with Mango Vinaigrette
• 9.9 oz. packages of Atherstone Fine Foods Grilled White Chicken Caesar Wrap with Caesar Dressing'
• 10.7 oz. packages of Super Fresh Foods California Grilled Chicken Salad, Low Fat Mendocino Mustard Dressing
• 10.7 oz. packages of Lunch Spot Southwestern Style Chicken Wrap, Chile & Lime Dressing
• 9.2 oz. packages of Super Fresh Foods Pan Pacific Chopped Chicken Salad, Ginger Soy Dressing
• 10.7 oz. plastic containers of Trader Joe's Field Fresh Chopped Salad with Grilled Chicken
• 11 oz. plastic containers of Trader Joe's Mexicali Salad with Chili Lime Chicken
Published by Medicaldaily.com