Unhealthy Eating: Most Junk Food Bought At Supermarket, Not McDonald's
The place where we satisfy our junk food fix is much more likely to be our local grocery store than it is to be our nearest Mickey D's, reveals a new study published Tuesday in the European Journal of Clinical Nutrition.
Researchers examined the survey responses of over 4,000 adults who had taken the 2011-12 National Health and Nutrition Examination Survey, a nationally representative poll of Americans' food habits. Nearly 90 percent of the participants admitted to nibbling on discretionary foods — tasty snacks with little nutritional value — on a daily basis, while nearly half indulged in sugary beverages like soft drinks. Surprisingly, though, more than half of the calories they consumed from each type of junk food came from items they bought at a grocery store or supermarket as opposed to a fast food or full-service restaurant.
"More than half of the sugar-sweetened beverages and two-thirds of discretionary foods are purchased in supermarkets and grocery stores," said lead author Dr. Ruopeng An, an associate professor in the Department of Kinesiology and Community Health at the University of Illinois, in a statement.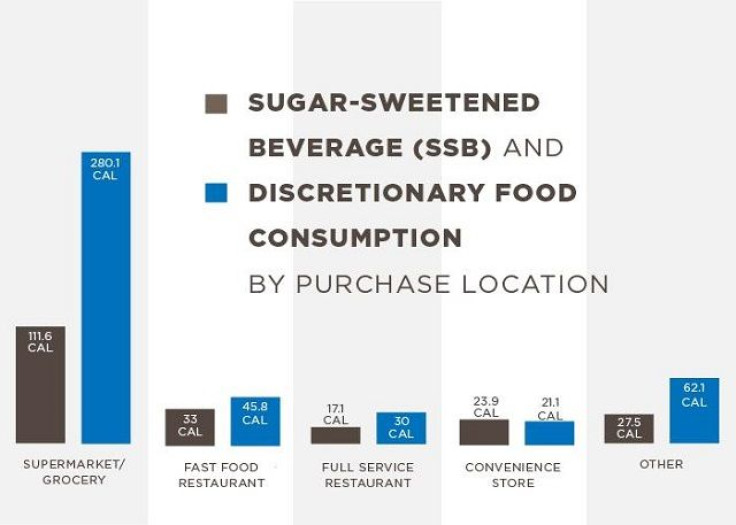 Overall, Americans on average consumed 213 calories and 439 calories daily from sugary drinks and snacks respectively. Fifty-two percent of the calories from sugary drinks came via the supermarket, while the same was true for 64 percent of the calories from junky snacks.
"Supermarket purchases of these items are about two to four times as large as all the other sources — fast-food restaurants, full-service restaurants, convenience stores, vending machines and other locations — combined." said An.
According to An, the findings undermine the popular idea of "food deserts" as a significant cause of obesity and poor nutrition, particularly among people with low income. Researchers have speculated that neighborhoods with few supermarkets or grocery stores discourage its residents from obtaining healthier foods. This disparity in turn would help explain the higher rates of obesity in these traditionally poorer neighborhoods. In light of that, there have been widespread efforts by the federal and local government to encourage the building of grocery stores or expanding the selection of foods already sold at convenience stores to include fruits and vegetables within these struggling communities.
While there has been some promising evidence that these efforts have improved people's eating habits, the current findings are only the latest to suggest that supermarkets shouldn't be seen as a cure-all for our notoriously unhealthy diets.
"It is true that supermarkets also are the largest source of healthy food," An explained. "But we can't be naïve and think that people only purchase healthy food from supermarkets. They also buy all this junk food from supermarkets and grocery stores."
More than simply building stores that stock plenty of fruits and veggies, An added, we need to find a better way to nudge people into actively making healthier food choices — for example, by drastically cutting down on how much junk food they eat regularly.
"We don't see from our data that the presence of a supermarket has a preventive effect on people's obesity or their junk-food intake," he lamented.
Source: An R, Maurer G. Consumption of sugar-sweetened beverages and discretionary foods among US adults by purchase location. European Journal of Clinical Nutrition. 2016.
Read More:
Opening A Supermarket In A Food Desert Might Improve People's Diets, But Only Slightly. Read here.
Fixing Food Deserts May Be A Waste Of Time: Having Access To Healthy Food Won't Improve America's Health. Read here.
Published by Medicaldaily.com