How Old Is Usain Bolt? Fastest Man In The World Tests His Age In 100-Meter Sprint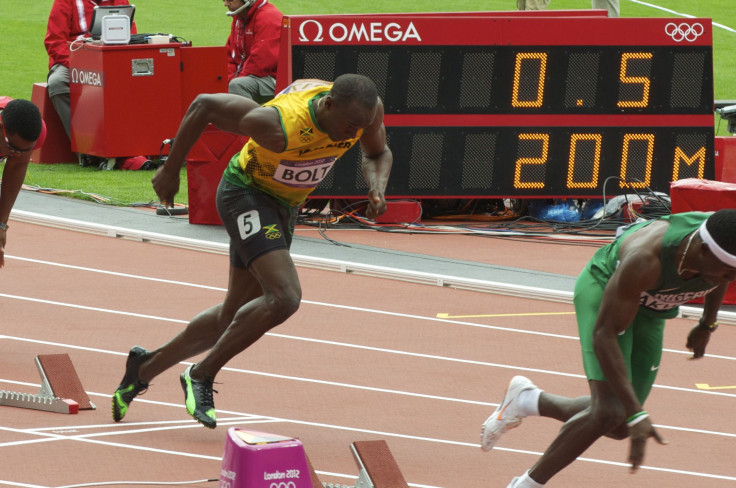 Usain Bolt shocked the world when he became the first man in Olympic history to win both the 100-meter and 200-meter races in 2008, breaking both world record times. Four years later he did it again, but this time set three world records, becoming the first in history to do so in a single Olympic Games competition. While the Jamaican sprinter is the fastest man in the world to be recorded, with six gold medals to show for it, the world wonders if he can do it again this time around, especially given his age.
Bolt will turn 30 on Aug. 21. Before then, he'll compete in the 100-meter sprint, holding on to the last remaining year of his 20s. At the 2016 Rio Olympics, sprinters will line up to fight for the finish line in what is typically considered a young athlete's event. But despite a sore hamstring in the trials last month that cost him the lead, Bolt hopes to take home the gold for the third time in a row.
"It's always to win," Bolt said at the trails. "That's what I'm here for. That's what I'm going for. My focus is to go out there and do my best, and execute well."
The only man who has a chance at dethroning bolt is Justin Gatlin, the 2004 Olympic 100-meter champion. Bolt affectionately refers to the 34-year-old Gatlin an old man. While Bolt and Gatlin may seem young in the public's eyes, the two leading sprinters are at the fringes of their careers.
"Everyone always has something to say about my gray hairs," Gatlin told NBC in a recent interview. "But I say it's not gay — it's my wisdom."
Since 1896, the average age of a 100-meter gold medalist is 23 years old, putting both Bolt and Gatlin far beyond the normal age range. If Gatlin wins, he'll be the oldest man to win an Olympic gold medal in the 100-meter race.
According to Dr. Valerie Gladwell, a physiologist professor at the University of Essex: "Your physical strength peaks at around 30, followed by a general decline in muscle mass as you age."
Although Gatlin's physically prime years are behind him, he's the only one who can keep up to Bolt, nearly beating him during the 100-meter final at the world championships in Beijing last August 2015.
The two men are set to race in the semifinals today, Aug. 14 at 8:07 eastern time.
Published by Medicaldaily.com