Virginia Police Officers Taser Suspect, Lantz Day, For 42 Seconds: Was It Justifiable? [VIDEO]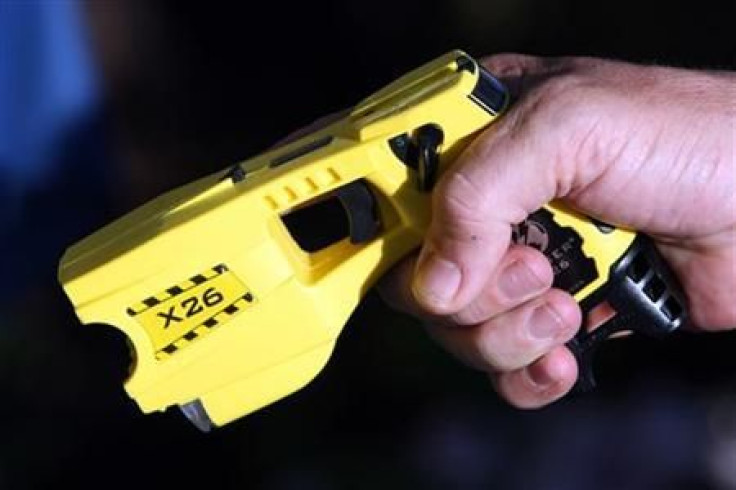 Police officers from Fredericksburg, Va. have landed in hot water after a video surfaced of one policeman applying a taser to suspect, Lantz Day, 36, for what appears to be 42 seconds. The Fredericksburg police department is now conducting an internal investigation to decide if the officer used excessive force or if he was justified in his actions.
"This video certainly appears to capture the events on the night in question," Fredericksburg police representative, Natatia Bledsoe told The Free Lance-Star. "It's [about] two minutes in time for an incident that was obviously much longer than that. So it captures a portion of that incident."
According to police, Day was the passenger in a car that had damaged five other vehicles along a street in downtown Fredericksburg. When officers arrived on the scene, the vehicle's driver fled, and a clearly hostile Day remained, threatening bystanders who had informed the authorities. As Day attempted to flee the scene as well, officers detained the suspect by way of a police taser.
In a video posted on YouTube, you see Day arguing with police before trying to escape between them. The police then use the taser, and remain standing over the Day, while he moans in pain and shouts, "stop it! stop it!" Day was arrested for obstruction of justice and booked at Rappahannock Regional Jail where he is being held on $3,500 bond.
Police officers in Miami Beach, Fla. know all too well how deadly excessive force with a taser can be. 18-year-old graffiti artist, Israel Hernandez-Llach died after he was hit in the chest with a taser following a foot chase with officers. Bledsoe was able to provide The Free Lance-Star with a copy of the department's Use of Force Policy which stated:
"As with the use of deadly force, officers contemplating the use of non-deadly force shall apply a standard of objective reasonableness, basing any decision to use force on the totality of the circumstances known to them at the time. Officers need not select the least amount of force that can be used, but must select a level of force that is reasonable for the given circumstances."
Published by Medicaldaily.com