What Is Fractional Laser Resurfacing? Chelsea Handler Shares Before-And-After Photos From Skin Treatment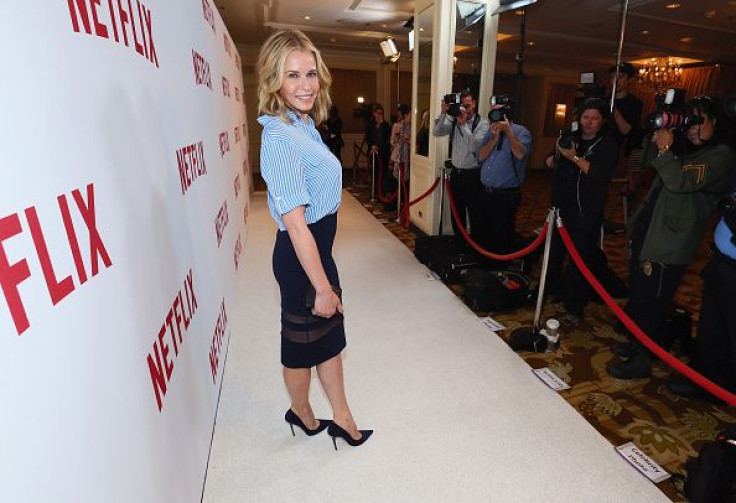 Chelsea Handler is known for her no-nonsense attitude. The 41-year-old comedian and talk show host recently opened up on her Netflix show — called "Chelsea" — about undergoing a profractional laser treatment on her face.
Following the show, Handler also shared a photo with her 2.8 million Instagram followers showing a side-by-side comparison of selfies before and after undergoing the profractional laser treatment. The star claims that it's "f---ing awesome and no one is paying me to tell you about it."
WHAT IS PROFRACTIONAL LASER TREATMENT?
The treatment works to improve skin tone, smoothes out fine lines, and evens out skin discoloration, according to Beverly Hills-based dermatologist Dr. Stuart Kaplan. It selectively treats small sections deep in the skin, while not affecting the rest of its surface.
DOES IT HURT?
A treatment reportedly only takes 20 minutes and a topical numbing cream is applied prior to a session (which is not just for the facial skin, but can be used anywhere on the body). This helps ease any discomfort from profractional lasers, Dr. Kaplan reported.
WHAT ARE THE SIDE EFFECTS?
Following a treatment, skin becomes red and blotchy (i.e. the "after" photo that Handler shared on Instagram). Approximately one week of mild peeling and flaking will also follow the profractional laser treatment, The Daily Mail reported, but Handler claims she healed in four days.
According to Dr. Kaplan, who performs the treatment on his patients, "healing times often vary."
LET'S TALK MONEY
The average price of a session is $1,125, according to a reviews site, realself.com. This number is based on 87 reviews from across the U.S.
Read more:
Lasers Are Building The Future Of Medical Science, One Bald Head And Brain Surgery At A Time
How To Get Rid Of Acne Scars: Chemical Peels, Laser Treatments Can Help Clear Skin
Published by Medicaldaily.com