What Is Goat Yoga? Benefits Of Breathing, Stretching Into Poses, Among The Company Of Adorable Baby Animals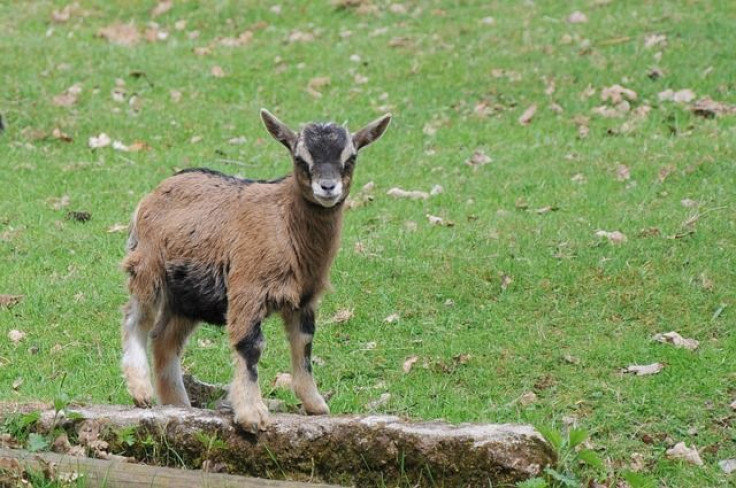 Yoga offers tons of mental and physical benefits, but modern twists on this ancient practice reportedly offer additional elements of relaxation and healing, and just plain cuteness.
The most recent yoga trend? Baby goats. The goats run and skip around practitioners, playfully climb on their backs, and are generally adorable.
Read: National Yoga Month 2016: 10 Instagram Stars To Follow For Yoga Inspiration
In Albany, Ore., No Regrets Farm is currently offering popular goat yoga classes, and they have a waiting list of over 900 people. Word got out.
"My goats are very social and friendly animals and love to interact with people," No Regrets Farm owner Lainey Morse told The Oregonian back in August. "Animals are known to have so many health benefits for humans as well, so the mix of goats and yoga seemed to fit."
Morse is right. A 2005 study published in the British Medical Journal found that playing with your pet can raise levels of serotonin and dopamine and decrease cortisol.
Spending time with animals has also been linked to increased longevity and a healthier heart, and may combat diabetes and attention deficit hyperactivity disorder (ADHD), Medical Daily previously reported.
Read: What Is Superbrain Yoga? How To Improve Cognitive Function With This Yogi Practice
"People are desperate for something that is pure and peaceful," said Morse about the demand for goat yoga. "It's really hard to be in pain and sad when there's baby goats jumping around you. It's just you're letting go."
Back in 2010, a comparative analysis study from researchers at the University of Maryland School of Nursing concluded that yoga may be as effective, or even better, than exercise when it comes to improving health.
Currently, more than 11 million Americans practice yoga, according to the American Council on Exercise.
See Also:
The Science Of Yoga: Breathing While Stretching Into Poses Relieves Stress And Benefits The Body
Dry Salt Therapy Benefits: How Salty Yoga In Pink Himalayan Salt Helped My Shallow Breathing
Published by Medicaldaily.com