When Primary Care Isn't Enough, Chronic Pain Patients Secretly Find Relief In Alternative Therapies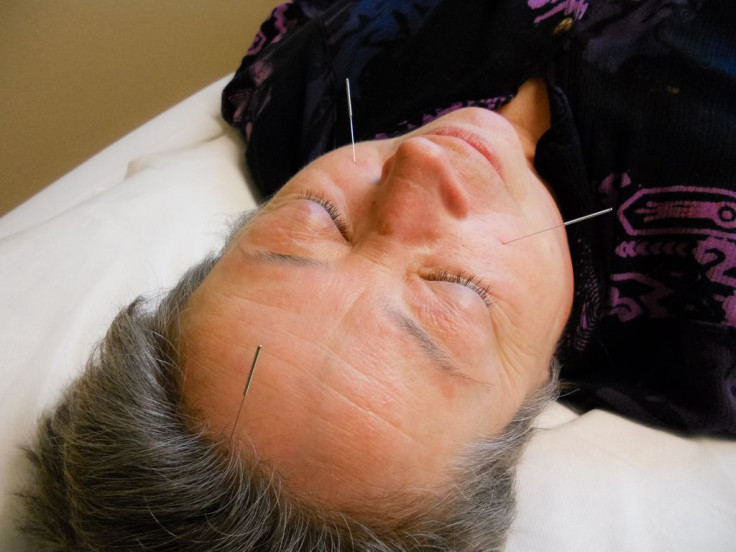 Chronic pain is an umbrella term for common conditions, such as back pain, joint pain, arthritis; neck and muscle pain, and headache. The Kaiser Permanente Center for Health Research reported 100 million Americans suffer from these conditions each year, and according to its latest research, primary care may not be enough to offer relief.
Instead, patients are seeking out complementary, alternative treatments, like acupuncture and chiropractic care. Researchers from Kaiser and Oregon Health & Science University issued a survey to 6,000 of Kaiser's former members in order to find out just how many patients had accessed these alternative treatments. The survey included 17 questions about the type of pain patients had experienced, in addition to their use of acupuncture, chiropractic care, and any other alternative therapies. The average age of survey respondents was 61.
The results showed 58 percent of patients had used either one of these alternative treatments, or both. Patients' medical records further revealed 66 percent of those receiving acupuncture and about 45 percent of those receiving chiropractic care were able to do so through their health plan. The remainder of patients accessed these services outside their network or through a combination of both their health plan and outside resources, researchers found.
"Our study confirms that most of our patients with chronic pain are seeking complementary treatments to supplement the care we provide in the primary care setting," said Dr. Charles Elder, lead study author and affiliate investigator at Kaiser, in a press release. "The problem is that too often, doctors don't ask about this treatment, and patients don't volunteer the information."
Here's why a disconnect between doctors and their patients, whether they suffer from chronic pain or not, is a problem: For one, it suggests doctors aren't doing all they can to advise their patients. And two, if doctors aren't mentioning alternative therapies, patients will take it upon themselves to find the information they need. This is to say they'll go home and Google it. ZocDoc, a digital health platform, found 80 percent of American Internet users have looked online for health information.
ZocDoc added people mostly search online out of embarrassment and frustration with their health problems. Yet, as easy as it is to surf symptoms and illnesses online, it doesn't mean you should do it. Nearly one in five Americans will wind up misdiagnosing themselves this way, opening up a floodgate of anxieties. More than half of physicians also said "that misinformed patients were one of the most common barriers to good doctor-patient communication."
"We want our patients to get better, so we need to ask them about the alternative and complementary approaches they are using," Elder said. "If we know what's working and what's not working, we can do a better job advising patients, and we may be able to recommend an approach they haven't tried."
Source: American Journal of Managed Care. 2015.
Published by Medicaldaily.com